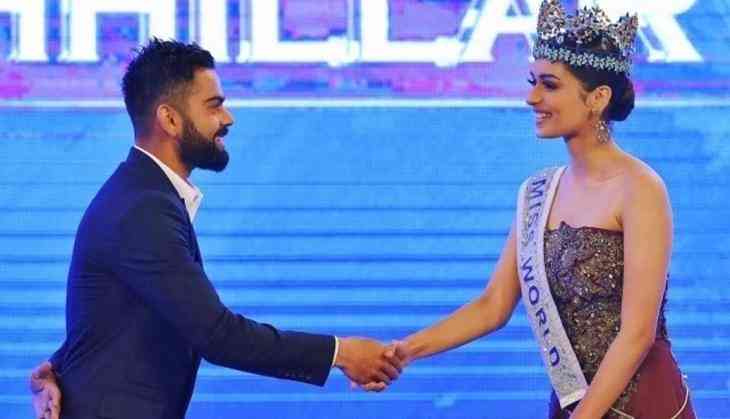 Indian skipper Virat Kohli recently created a buzz in the media by completing his 50th international century and after that hitting the 5th double ton of his career in the second Test match against of Sri Lanka of the three-match series. His current century count stands at 51.
In the recently concluded Test match, Virat Kohli's boys defeated Islander with an inning and 239 runs. In the same match, Indian spinner became the fastest bowler to take 300 wickets.
In another news, social media sites had a meltdown because Miss India Manushi Chillar brought back the crown of Miss World in India after 17 years following the steps of Priyanka Chopra.
The Miss World of India Manushi Chhillar met Indian skipper Virat Kohli at an event in Delhi on Thursday. When Manushi Chhillar met Indian captain she had a question to ask him.
"You are one of the best batsmen in the world today. You have been such an inspiration and you have really given a lot to the society. But there are a lot of young people who draw inspiration from you. How would like to give back, especially to children in the field of cricket?" Manushi asked Virat.
To which Virat Kohli said, "What's very important to understand is, when you do what you do, and you express yourself on the field, it has to be genuine, it has to be from the heart. Otherwise, people find out that you are trying to pretend and they can never connect to you. I have never tried to be anyone else. I have always been myself. I have always mentioned people had a lot of issues with how I was, how I conducted myself. I never had problems with that. The moment I started to think that I need to change, is the only time that I changed."
Also Read: Ind vs SL, 3rd Test: Virat Kohli has a golden chance to break Brian Lara and Sachin Tendulkar's record; here is how
"Everyone has to go through a mutual process to be where they get in life, to become more mature. What's very important to understand is that one should never lose their identity, character, and personality. Because if you try to be someone else, you can never succeed and you can never inspire others," Virat Kohli further added.