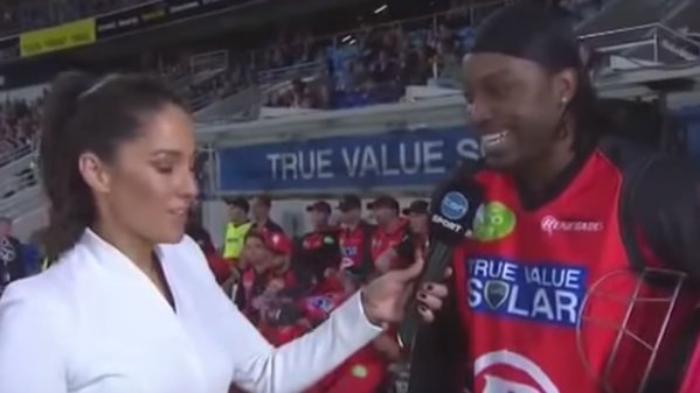 A fuming Chris Gayle blasted current and former cricketers for not standing by him when he was roundly criticised for 'joking' with a TV presenter during an interview at the Big Bash League (BBL).
Also read: Chris Gayle equals Yuvraj's record for fastest T20 fifty
The Jamaican, after playing his last BBL match, posted an expletive-ridden rant on his Instagram account saying it was he who made the leagues, including the BBL, and questioned his fellow players' timid approach. He later removed the post.
"Ppl think I may have played my last innings in Aus but my memory with the fans will live on forever!! I build leagues around the world and Big Bash is one of them," the explosive batsman wrote.
"The Haters, I Thank you even more. I think a lot of past and present cricketers who smile in front my face could've have there say In the public when my so call issue was going on, but y'all don't have the B**** to stand firm when it matters - but yet when u see me you're like, Chris that's BS against you, it was blown out of proportion."
Gayle went out of BBL on a high with a record-equalling 12-ball 50 even as his side, Melbourne Renegades could not make it to the summit clash. It is widely believed that he may not be invited to return to BBL.
Also read: Why Yuvraj is disappointed with Gayle's fastest T20 fifty
He also took a swipe at cricketers, who feel he is a bad influence on children.
"The past cricketer who say I make myself look like a chop, the other who claim I was no good to the youngsters while playing for the thunder, the next one who said he expect that sort of behavior from Chris - Y'all can kiss my 'Black R***' I love Australia and I will be back again," he concluded.
The marauding batsman had drawn flak when he asked channel 10 presenter Mel McLaughlin out for drinks during an interview.
The furore had blown up to such an extent that former Australia skipper Ian Chappell called for a ban against him.
-PTI