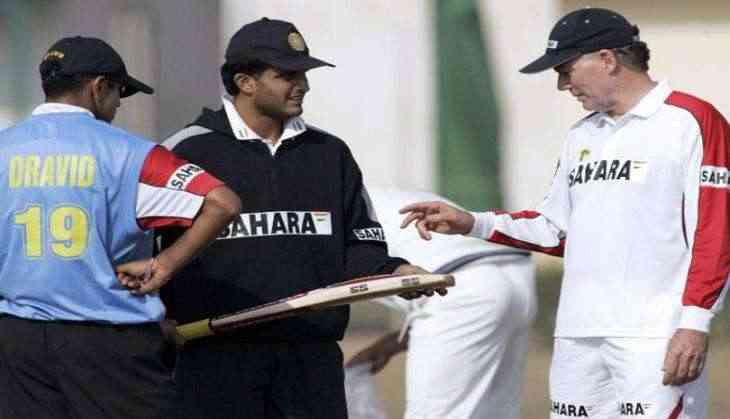 Former Indian captain Sourav Ganguly has came up with a revelation saying when the then coach Greg Chappell put him out of the Indian team and he was desperate to return. Then his father was not in support of Chappell's decision and he wanted to get the star cricketer retired from the game.
The former captain of the Indian team has made this disclosure in his very soon published autobiography 'A Century is Not Enough'. When Chappell was the coach of the Indian team, Ganguly was removed from the captaincy and even he was dropped out of the team.
Ganguly also said that he was 'angry' and 'sad' when he was not selected in the remaining India squad for the 2008 Irani Trophy. A few months later, he had announced his retirement. He did not understand why he was expelled from the team. He later called the team captain Anil Kumble and tried to find out the reason.
Ganguly has written in the book, "I asked him point-blank, did he think I was no longer an automatic choice in his eleven? Kumble - the gentleman that he has always been - seemed embarrassed with my call. He told me he hadn't been consulted before the selection committee chaired by Dilip Vengsarkar took this decision."
The book is co-authored by Gautam Bhattacharya. Ganguly asked Kumble next question whether he believes his team needs his services?
"Kumble's reply consoled me. He said if it came to him taking the call, he would pick me again for the upcoming Test match selection. I heaved a great sigh of relief."
Ganguly played in domestic cricket to give a tough message to the selectors. He even participated in the JP Atray Memorial Trophy in Chandigarh. The team was soon announced for the first two test matches against Australia and Ganguly was involved in it. Simultaneously, the board president team was also announced. It was a second-class team that met Australia in Chennai.
"The Board President's XI is traditionally used to vet the potential of promising youngsters or assess veterans whose Test future is uncertain. I was included in it as well. These teams got picked by the new selection committee under Krishnamachari Srikkanth," Ganguly recalls.
"But its mindset seemed to be no different from the previous committee's. The message was crystal clear - that a veteran of 100-plus Test matches, a certain Sourav Ganguly, was again on trial," he says.