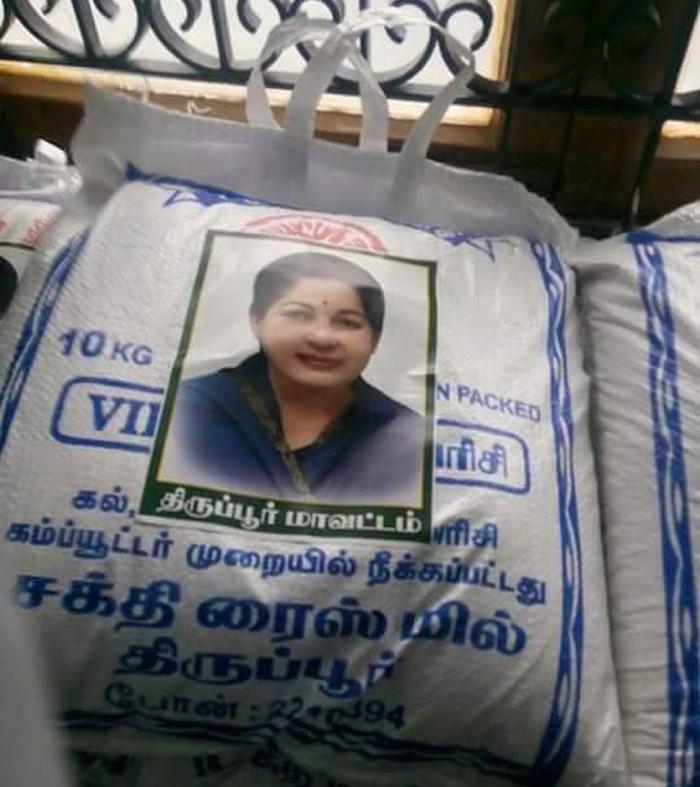 Even the abject misery of several thousand people doesn\'t seem to deter a few from engaging in unsavoury, apathetic and political tactics.
Volunteers transporting relief material to Chennai are being stopped by goons who are forcibly sticking Tamil Nadu CM\'s posters on the boxes and vehicles before rerouting them to government camps.
Let's see how this has sent the online world into a rightful tizzy.
While the Army, Navy and good Samaritans alike have been busy rescuing and providing relief in whichever manner they can to the thousands stranded in Chennai due to the disastrous deluge, people from neighbouring cities have also pitched in.
Residents of Chennai, Kochi, Coimbatore and even Pune, have collected relief material with the help of social media, which has then been transported to Chennai by logistic experts who were paid by residents themselves. However, the fly in the ointment is that the relief materials are being rerouted, photographs of Tamil Nadu Chief Minister J Jayalalithaa are being pasted on the boxes and often the supplies are being redirected to government camps instead of their original destination.
As one person posted on Facebook: "6 trucks coming from Coimbatore. . Stopped at Sriperumbudur. And Amma stickers stuck on every pack and sent in. Many of my friends who had gone to Cuddalore with relief materials complained that thugs and goons are forcibly pasting Amma stickers on every box and only then clearing the vehicles. Shameless political tactics. I am even ashamed to talk about this but at the same time feel that people in the interiors will blindly believe that this is Amma's work. Cheap and dirty than s**t!"
Chennai's beloved Chief Minister clearly does not like any relief work passing through the city without her face etched on it. Obviously, it didn't take long for people to vent their ire and share their revulsion on Twitter.
They are actually pasting stickers of Jayalalitha's face on the relief items! Seriously!!!!!! #ChennaiFloods pic.twitter.com/VRTkmvKRcl

- Ratha Angel (@RathaAngel) December 5, 2015
Lol mandatory "Amma" stickers on food packets. Because obviously #Jayalalitha 's face is more important than starving stomachs.

- H. Suren (@leviosa412) December 4, 2015
@_anithasridhar how well manpower being used in times of disaster ! pic.twitter.com/xBpubQ3d5A

- sivasankar (@shiva_papillon) December 4, 2015
Ajay Appaden, who was supposed to accompany a relief vehicle with supplies to affected areas from Kochi, told Catch that he was warned by those who went before him about goons rerouting the vehicle with relief supplies to government camps.

"When I let my friends know that I was accompanying a relief vehicle with supplies to affected areas, I was warned by multiple people, all of whom are actively involved in rescue and relief operations that some goons are blocking the vehicles, slapping the CM's stickers and forcibly redirecting them to government camps as their own," says Appaden.

"I was warned that the supplies brought by people who did not comply were being dumped in water," he added.

The opposition has already criticized the state's relief measures for not reaching many flood affected areas.

DMK and PMK chiefs also voiced their concern over the lack of immediate compensation to the affected people in various districts.

Meanwhile, hundreds of military personnel, social activists and good Samaritans are engaged in supplying food, health kits, water and blankets to thousands who need rescue and are still marooned.

Appaden says he is even willing to negotiate with the goons and distribute relief supplies. Fortunately, these unsavoury antics haven't been able to deter many.