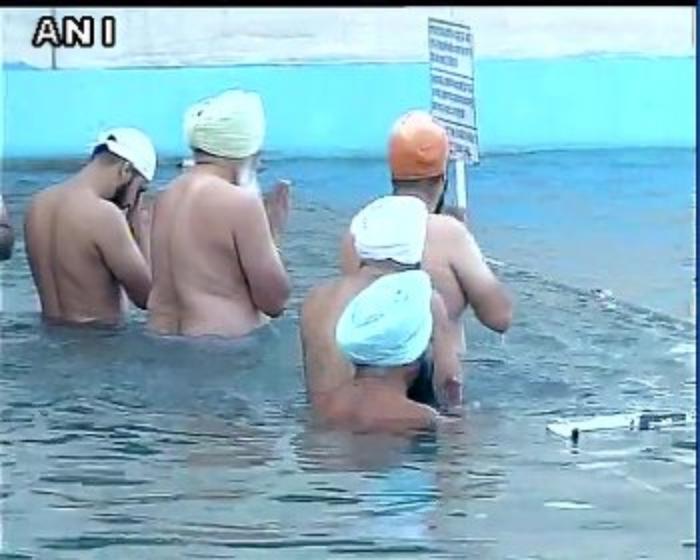 Sikh devotees, on 11 November, thronged at the Golden Temple in Amritsar to celebrate 'Bandi Chhor Divas, or Prisoners Release Day, to take a dip in the holy water.
Bandi Chhor Divas celebrates the release of Sikh's sixth Guru, Guru Hargobind, and 52 other princes from prison in October 1619.
After the release, Guru Hargobind arrived in Amritsar in the midst of Hindu festival of lights, Diwali. Since then, the day has been associated with his liberation.
Hundreds of devotees were seen taking holy dip in the water and praying for the prosperity of their families.
"Today, the sixth Guru, Guru Hargobind, liberated 52 prisoners from Gwalior Fort and came to Amritsar with them on Diwali. So people are celebrating it and are taking dip in the holy water," said a devotee, Gurcharan Singh.
In the evening, the Golden Temple will be decorated with electric lights and hundreds of candles. Religious hymns will be sung and crackers will light up the sky to celebrate Diwali.
The festival is celebrated every year between the months of October or November. Legend has it that millions of lamps were lit when King Rama returned to Ayodhya after 14 years of exile and after defeating the demon king, Ravana.
Diwali is also celebrated in honour of Lakshmi, the Hindu goddess of wealth and prosperity. It is believed that Lakshmi showers her blessings upon those homes that are clean and well lit.
-ANI