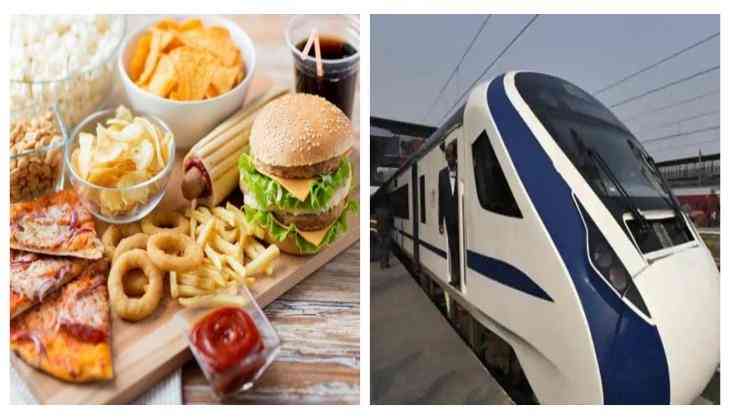 Prime Minister Narendra Modi will be going to launch the Delhi-Varanasi Train 18 or Vande Bharat Express on 15th February. The train is in the headlines not only for its name but also for the services that will be going to offer to the passenger. As per the reports, IRCT is planning to serve some delicacies like Muffins and doughnuts for breakfast, a piping-hot lunch from an upmarket restaurant in Allahabad and a five-star dinner from a hotel in Kanpur.
With this yummy food, Indian Railways is planning to tickle the taste buds of passengers. If this happened, then, passengers will not need to worry about the food quality which is served in train.
The Indian Railway Catering and Tourism Corporation (IRCTC) has made an effort to improve the quality of the food which is served to the passengers by deciding to use the outsource catering operation for the Vande Bharat Express and set to run at 160 kmph.
As per IRCTC official, Railways has tied up with a hotel in Kanpur and dinner will also be loaded there. Therefore, dinner will be served to passengers from Kanpur onwards to the passengers coming from Varanasi and going to New Delhi. While those are travelling between New Delhi and Varanasi, a lunch will be served at Allahabad. However, the food menu has not been finalised yet but there are expectations that it will be of a good brand.
As per the reports of HT, the officials also said that the food will be packaged in such a way so that it will remain warm till it served to passengers. Also, there will be a trained serving staff in the Train 18 who will be courteous to passengers and also offer hand sanitizer at meal times.
IRCTC official also revealed about the breakfast that there will no more the regular breakfast of cutlet and bread served to travellers. Now, muffins, patties and donuts will offer to passengers at breakfast.
The Delhi-Varanasi Train 18 will complete its journey in about eight hours, during this running time, there will be a breakfast, lunch and snack for passengers.
Meanwhile, Delhi-Varanasi Train 18 or Vande Bharat Express has become India's fastest train when it hit a speed of 180 kmph.
Passengers can only book two classes of tickets i.e. executive class and chair car, which also includes the catering service charge and the goods and services tax (GST).
The fare of executive class from New Delhi to Varanasi will be of Rs 3,310 and for chair car, the ticket is priced at Rs 1,760.
Also read: Holi Special Train: Big trouble for passengers! IRCTC cancelled these express trains till 31st March; see the list