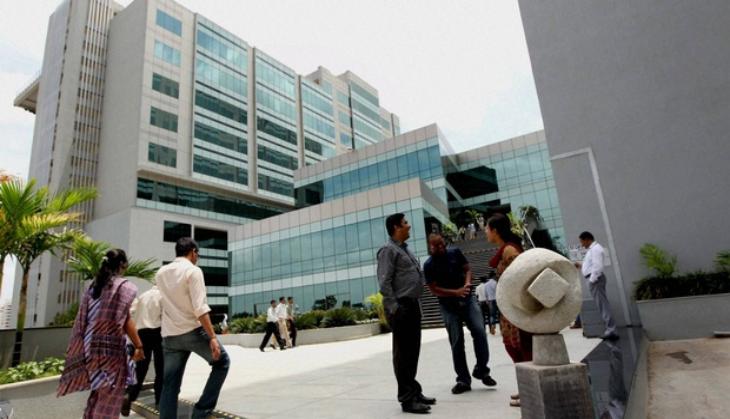 Wipro, India's third-largest IT firm, has reported a 1.6 per cent drop in its March quarter net profit to Rs 2,235 crore due to pressure on margins even as it aims to double revenue to $15 billion (nearly Rs ​99,791.25 crore) by 2020, while its board approved a Rs 2,500-crore share buyback plan.
The company's shares closed down over 1 per cent on Wednesday. On the BSE, Wipro's shares closed at Rs 590.00, down Rs 11.35 or 1.89 per cent lower.
The Azim Premji-led firm had registered a consolidated net profit of Rs 2,272 crore in the same quarter last fiscal.
IT services, which account for a lion's share of its turnover, saw margins drop by 10 basis points to 20.1 per cent compared to October-December quarter and by 2 percentage points on year-on-year basis and were also impacted by weakness in its financial and healthcare services business.
The company board also approved a share buyback for Rs 2,500 crore. Wipro will buy up to 4 crore shares, representing 1.62 per cent of the total paid-up capital, at Rs 625 apiece.
Wipro, which has lagged larger rivals Infosys and Tata Consultancy Services in fourth-quarter earnings, forecast revenue from IT services business at $1.90 - $1.94 billion.
This would be an increase of 1-3 per cent quarter-on-quarter growth.
The company is looking to double its turnover to $15 billion by 2020 as it focuses more on digital and automation under the new management team.
It closed 2015-16 fiscal with about $7.7 billion in annual revenues. During January-March quarter, Wipro's revenue rose 12.9 per cent to Rs 13,741.7 crore.
"Our focus is to drive significant growth in our 'run' business through integrated services and hyper-automation while gaining leadership in the 'change' business through investments in Digital and Consulting capabilities, IP-based platforms and products and creating differentiated domain solutions for non-linear growth," Wipro CEO Abidali Z Neemuchwala said.
The numbers were announced after the markets closed.
Shares of Wipro today closed at Rs 601.35 apiece, up 2.07 per cent from its previous close on the BSE.
Kotak Securities Senior Vice-President and Head of Private Client Group Research Dipen Shah said the revenues matched up with expectations but margins were below our expectations.
Wipro continues to be impacted by the lack of scale up in large accounts, apart from the continuing challenges in the Energy/Telecom segments, he said.
Wipro's IT services revenue stood at Rs 12,796.7 crore in the March quarter as against Rs 11,241.7 crore a year ago, showing a growth of 13.8 per cent.
For FY 2015-16, its net profit increased 2.7 per cent to Rs 8,892.2 crore, while revenue grew 9.1% to Rs 51,630.7 crore from last fiscal.
"Overall, we find the demand environment to be stable...
With our integrated services focus, we are able to proactively help clients move this spend to us from 'run' to 'change'. In Q4, we saw good deal flow and good set of deal closure. We won four strategic new deals in Q4," he said.
Calling his first opportunity to interact with the press since taking over as CEO as a "special moment", Neemuchwala said he had met 70 of its top 100 clients in past few weeks.
"Our ambition is to be $15 billion by fiscal 2020 with 23 per cent operating margins. The core leadership team has laid out the ambition and we have done a tremendous amount of detailing in terms of how to get there," Neemuchwala said.
-PTI