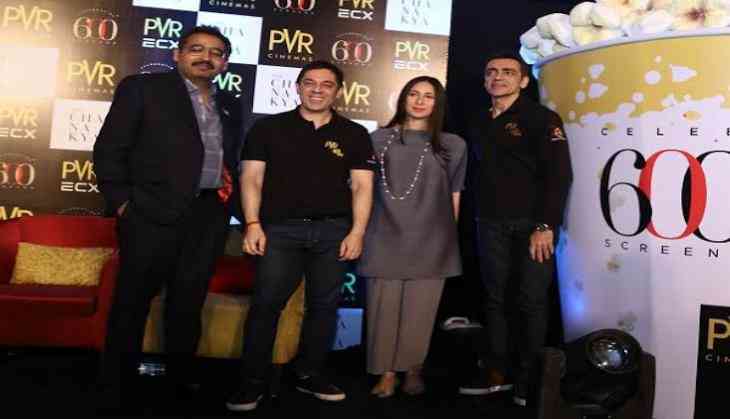 Multiplex cinema chain PVR Ltd. has revamped the iconic Chanakya cinema in South Delhi as the 'PVR ECX' multiplex to be city's first enhanced cinema experience, where the contemporary design blends with best in cinema technology.
With this launch, PVR has also reached a mark of 600 screens, with a total of 131 properties in 51 cities across the country.
Located in Chanakyapuri, the multiplex spreads across an area of 21,673 sq. ft., with a seating capacity of 1001 seats. PVR ECX will be a part of the sparkling new two-storied 'The Chanakya' mall, DLF's Luxury Retail house at the Yashwant Place Community Centre.
The mall will have boutiques for some of the world's most feted brands including Mont Blanc, Tom Ford Women, Kate Spade, Juicy Couture and many more.
Moreover, India's first stand-alone Hermes store will also be located here.
"Chanakya was an iconic cinema and one that is associated with cherished memories for generations of people living in Delhi. Now, in its new avatar we feel extremely proud and privileged to revive this great property as the PVR ECX -Delhi's first ECX multiplex. With this launch, we have also reached a milestone of 600-screens, bringing us closer to the 1,000 screen mark," said Ajay Bijli, Chairman and Managing Director, PVR Ltd.
In its new incarnation, PVR ECX Chanakya has unveiled the most opulent cinema format in India with its 4K projection system, next-generation 3D-enabled screens with ultra HD picture quality and Dolby ATMOS surround-sound system in all auditoriums.
The new cinema also offers Quick Tix, PVR's digital ticketing solution to promote cashless transactions and reduce ticket-wait times.
"Chanakya has always been synonymous with great cinematic experience and we are very excited to bring back that magic to all the movie lovers, old and new. The launch of PVR ECX will showcase the best of multiplex technology within the contemporary luxurious environs of the newest retail destination in the city-The Chanakya and it will go a long way in reaffirming an address that has always been iconic," said Sriram Khattar, Managing Director, DLF Rental Business.
The cinema also offers an automated F&B kiosk Quick Bites, for the first time ever, wherein patrons can either pick up their order from the counter or get it served on their seats.
Being a PVR ECX property, there is special emphasis on the ambience manifested by a deep focus on design, colours and lighting in each cinema. Designed by the Madrid-based Studio Gronda, the revamped PVR ECX has magnificent lobby spaces, custom-made chandeliers, prime marbles, dynamic auditorium lights, and unparalleled technological integrations.
-ANI