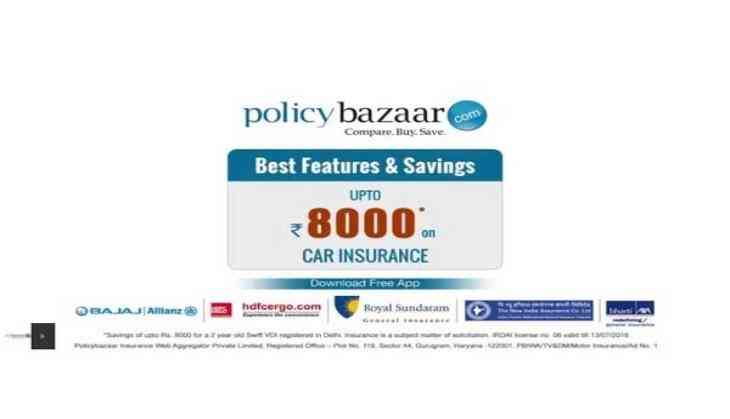 Policybazaar.com, India's largest insurance website and comparison portal, has launched a new advertising campaign with the tagline "Policybazaar pe compare karke car insurance khareedo aur Rs. 8000 tak bachao" (compare and buy car insurance on policybazaar, and save up to Rs. 8000). The campaign aims to highlight that spending three minutes on comparing insurance plans of all leading companies on Policybazaar.com can help get the best deal, and saving of a significant amount of money.
The month-long campaign is designed by the in-house team of Policybazaar.com and executed by K Silent Productions. The TV campaign will go on air on 8 July, 2017.
"Since the inception of Policybazaar, we have been educating people to compare insurance products before buying. And they should not only compare premium but also understand what benefits each plan offers. Through this TV commercial, we aim to target car owners as well as potential car buyers, and help them make a flawless decision while renewing insurance policy or buying a new policy," said co-founder and CEO PaisaBazaar.com and Group Chief Marketing Officer, PolicyBazaar.com, Naveen Kukreja.
"Most people renew their car insurance in a hurry just a few days before the expiry, that too from their existing insurer. They do not bother to see what better policies are available in the market. Through this campaign, we want to shake consumers up, push them out of inertia, make them compare insurance plans before buying and save their hard-earned money," said Associate Director and Head of Marketing, Policybazaar.com, Sai Narayan.
The TV commercial starts with a family head reading the family's expense sheet. He reads loudly his wife's credit card payment of Rs. 8000 in a sarcastic tone, internet charges of Rs. 2000 and then car insurance of Rs. 17000.
As soon as he reads out the insurance premium amount, his school-going son, who was busy on his tab all this while, repeats the insurance premium in a slightly shocked tone and says, "apne zyada pay kar diya (you paid extra)." Reacting to son's comment, farther says in a slight irritating tone, "you know everything."
The kid points out to him that on policybazaar.com one can compare insurance plans of 15 different companies in three minutes, that too free of cost, and save up to Rs. 8000. To check out the veracity of his son's information, the father takes the tab from his hand. The son, meanwhile, taunts in the following words: "Mere marks toh sabse compare karoge, car insurance compare nahi kiya na (you compare my marks with everyone but did not compare car insurance). The ad ends with saying "policybazaar.com par car insurance khareedo aur Rs. 8000 tak bachao."
-ANI