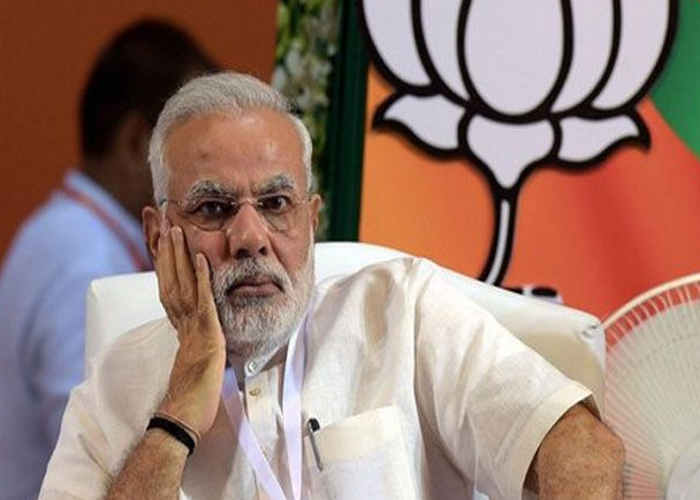 Congress vice-president Rahul Gandhi today launched a scathing attack on Prime Minister Narendra Modi, accusing him of making deliberate attempts to weaken labour-related laws which was creating dissatisfaction among the workers.
Alleging that Modi has launched a "big assault" on the workers, a combative Gandhi vowed to fight their battle like the Congress did for the farmers on the land acquisition bill.
"Like we fought for the rights of farmers, we will fight for the cause of the workers and stand with them and would not retreat an inch. We will fight BJP, Modi and RSS," he said amid applause at the 31st Plenary Session of INTUC, the trade union wing of the Congress.
Gandhi said although he agreed with the Prime Minister's idea of turning India into a global manufacturing centre to make it more competitive than China, the unanimity ends there.
This, he claimed, was because the Prime Minister considers Indian worker as "dishonest, shirker and one who could be made to work only by wielding the stick".
He said that is why the labour laws were being diluted, so that the workers come to his knees. "If you look at the new laws being made in Gujarat, Rajasthan and Haryana, you will see that Modi has started a big assault on workers," he said.
He claimed the Prime Minister feels that there was need to weaken the labour laws and "discipline" the workers so that they could be forced to work. Modi feels that with 'hire and fire' policy and weakening of unions, the workers will be made to work, Gandhi claimed.
"I do not agree that our worker is either shirker or indisciplined... Our worker is scared. He is scared of his future, the future of his children. The worker is scared whether the job he has today will be there tomorrow. Will the factory gate open for him tomorrow," the Congress leader said.
Insisting that the government should become "judge" between the labourers and the industry and "not advocate" of industry, he told the Prime Minister that if he is able to remove fear from the mind of the workers then India would be able to surpass China in no time.
Addressing the gathering, former Prime Minister Manmohan Singh said the "dissatisfaction" of workers with the "anti-labour and unimaginative" economic policies of the NDA government was obvious from the one day general strike observed in the country on September 2.
Gandhi's attack on the Modi dispensation came after INTUC chief G Sanjeeva Reddy accused the government of launching an assault on interests of the labourers in various ways.
Reddy alleged that the government was not recognising INTUC as the largest trade union organisation in the country with 3.31 crore members despite "submission of all documents for verification".
-PTI