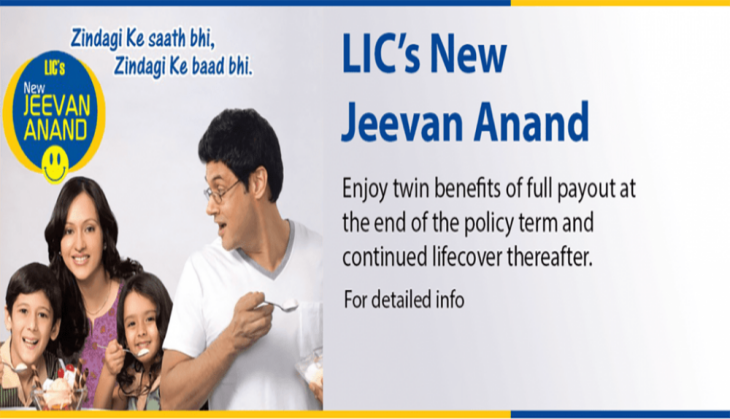 Life Insurance Corporation of India (LIC) is always the first and foremost choice of investors because of its name. Another reason that attracts customers is the policy plans that LIC keeps on bringing from time to time.
If you are planning to invest your money in LIC then we have to bring another cheapest insurance plan that will not only secure your future but also your money.
Today, we will tell you the benefits of LIC's Jeevan Anand policy...
Interestingly, under this policy, a customer will need not invest thousands of rupees to get the benefit of lakhs of rupees. Yes, you read right! Just invest Rs 9 and get the lump sum amount of Rs 4.56 lakh. Also, the interesting part of this policy is that the policyholder will not have to pay any kind of tax on it.
As per LIC official website, "Jeevan Anand Policy is the best combination which provides financial protection against death throughout the lifetime of the policyholder with the provision of payment of lumpsum at the end of the selected policy term in case of his/her survival. This plan also takes care of liquidity needs through its loan facility."
Double benefits under this policy:
If you buy this policy, then the holder will get a double benefit. In case, the policyholder dies during the period, LIC will provide the Sum Assured on Death.
"Death benefit, defined as the sum of Sum Assured on Death and vested Simple Reversionary Bonuses and Final Additional Bonus, if any, shall be payable. Where Sum Assured on Death is defined as a higher of 125% of Basic Sum Assured or 10 times the annualized premium. This death benefit shall not be less than 105% of all the premiums paid as on date of death," the plan reads.
Invest only Rs 9:
People will have to invest only Rs 9 and will get the benefit of Rs 4.56 lakh. Also, the customer can save tax by purchasing this policy plan.
Know who can buy this plan:
To buy the New Jeevan Anand Policy, the policyholder should attain the minimum age is 18 years while the maximum age limit is 50 years.
Benefits:
If you are 18 years, then you can choose the policy for 35 years with a sum assured of Rs 1 lakh. Under this policy, the premium amount will be Rs 1,07,645. But, you will have to submit 35 installments for this policy. Once your policy gets mature, you will get the amount of Rs 4.56 lakh.
Policy Duration:
LIC has set the time limit for the new Jeevan Anand Policy from 15 to 35 years. The policy can be purchased via online or offline mode. Apart from this, policyholders can make annual, quarterly and monthly payments.
Note: To read the more terms and conditions about this New Jeevan Anand Policy, users can click here.
Also Read: LIC Policy Offer 2019: Deposit Rs 1302 and get Rs 63 lakh under this policy; details inside
LIC ADO Mains Result 2019: Check 8581 vacancies exam result on this date; details inside