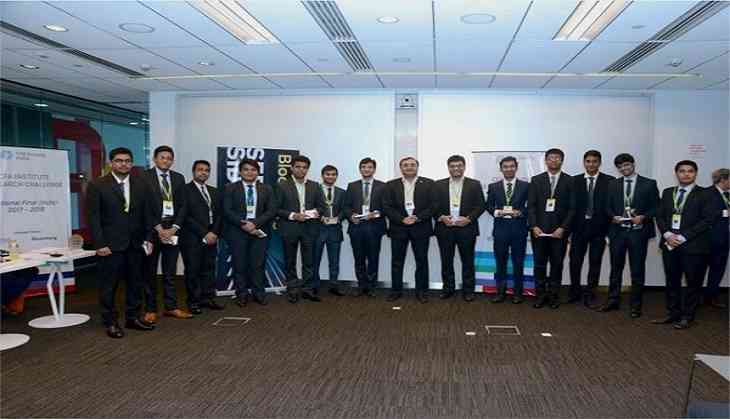 IIMs Ahmedabad, Trichy, Calcutta win CFA Institute Research Challenge India (ANI)
CFA Society India announced IIM Ahmedabad, IIM Trichy, and IIM Calcutta as winners of the national final of its CFA Institute Research Challenge India 2017-18.
These future investment management professionals will represent India at the Asia Pacific Regional competition to be held on April 25 and 26 in Kuala Lumpur, Malaysia.
Eight teams - IIM Indore, IIM Ahmedabad, IIM Trichy, NMIMS, Mumbai, AIMS Institute, Bengaluru, IIM Calcutta, IIFT, Delhi, IIM Raipur - participated in the national final.
Suresh Krishnamurthy, CFA, Senior Director, Global Head of Research - CRISIL Global Research and Analytics, Pramod Gubbi, CFA, MD and Head of Equities, Ambit Capital and Pankaj Murarka, Founder, Renaissance Investment Managers, were the judges.
The 11th edition of the challenge saw the participation of 55 business schools from 25 cities across four zones. They pitched their equity research on four companies - Indigo (Inter Globe Aviation), Hero MotoCorp, Titan and Asian Paints - in a brief, time-bound presentation followed by a round of questions.
"As an association of investment professionals, our endeavour is to interact with the next generation of investment professionals, build their understanding of the investment management industry, and mentor them to build successful careers. The CFA Institute Research Challenge gives them a unique opportunity with live environment equity research almost akin to the practical world. The rigour of research supported by quality professional mentors, the rigour of presenting to an experienced fund manager, is unmatched," said Kishor Bagri, CFA, Director, CFA Institute Research Challenge India.
The CFA Institute Research Challenge is an annual global competition that provides university students with hands-on mentoring and intensive training in financial analysis. Students work in teams to research and analyze a publicly traded company - sometimes even meeting face-to-face with company management.
Each team writes a research report on their assigned company with a buy, sell, or hold recommendation and selected teams present and defend their analysis to a panel of industry professionals.
-ANI-NewsVoir