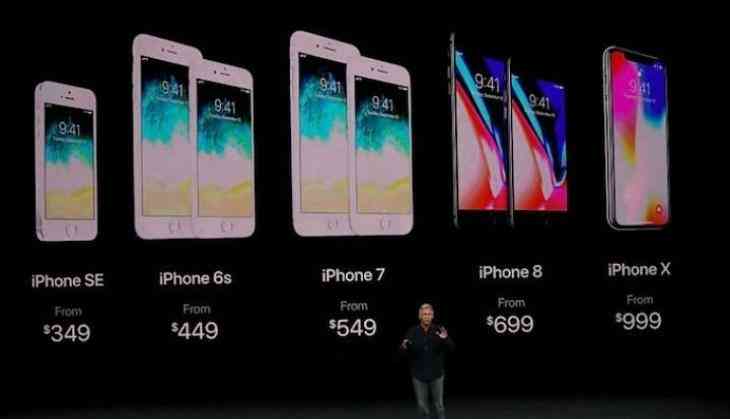 Apple iPhone 8, iPhone 8 Plus
As American multinational technology company has launched its new iPhones - iPhone 8 and iPhone 8 plus and iPhone X, people in India are looking exited in eagerly waiting to buy their new iPhones.
The launch event took place on 12 September at the Steve Jobs theater for the very first time.
The pre-bookings of the new devices have commenced in India via online and offline channels.
Exclusively, the smartphone will be made available on online websites including: Digital, Croma, Brightstar, and authorised resellers such as Redington.
The medium through which the iPhones will be available includes: Infibeam, Amazon, Jio.com, Flipkart and others.
The Apple iPhone 8 64GB model is priced at Rs 64,000 and its 256GB variant will be available for Rs 77,000. The iPhone 8 Plus 64GB model is priced at Rs 73,000 while the 256GB variant comes for Rs 86,000.
Under a buyback offer on Reliance Digital, you are eligible for "70% of the original purchase price as buyback amount on return of the device after a year."
The customers who will make payments through their Citibank Credit Card will be eligible to avail Rs 10,000 cashback on purchase of the new iPhone on the first day of the sale.
Under Reliance offer, the customers could go for Rs 799 plan in which postpaid Jio users will get 90GB of data per month along with free subscription to Jio's premium applications.
The same data plan is available for prepaid users.

Additionally, the iPhone X will be available for pre-order from October 27 and for purchase from November 3.
On 22 September, Indian electronic payment and e-commerce Paytm conducted a flash sale on select devices including Apple iPhone 7 Plus 256GB, iPhone 7 Red 256GB, and Google Pixel 128GB.
The three smartphones are available at Rs 61,999 (Rs 76,999 after discount + Rs 15,000 cashback), Rs 49,990 (Rs 59,990 after discount + Rs 10,000 cashback), and Rs 41,650 (Rs 49,000 after discount + Rs 7,350 cashback) respectively.
"Customers can expect smartphones from brands like Apple, Samsung, Google Pixel, Xiaomi, Honor, Motorola, Gionee, Intex, Oppo, Vivo, Gionee, ASUS Zenfones, Panasonic, Lenovo at up to Rs. 15,000 Cashback and the Samsung J3 Pro at Rs. 7090," said Paytm in a release.
"In laptops (HP, Lenovo, Dell, Acer, Fujistu, ASUS). Macbook Air 2017 will feature Rs. 14,000 Cashback and will slash its effective price from Rs. 58,990 to Rs. 44,990. Handpicked Intel Core i3 Windows Laptops will offer flat Rs. 8,000 cashback. The best selling Tvs (Sony, Samsung, LG, VU Televisions, Panasonic, Micromaxat upto Rs 15000 cashback," it further said.