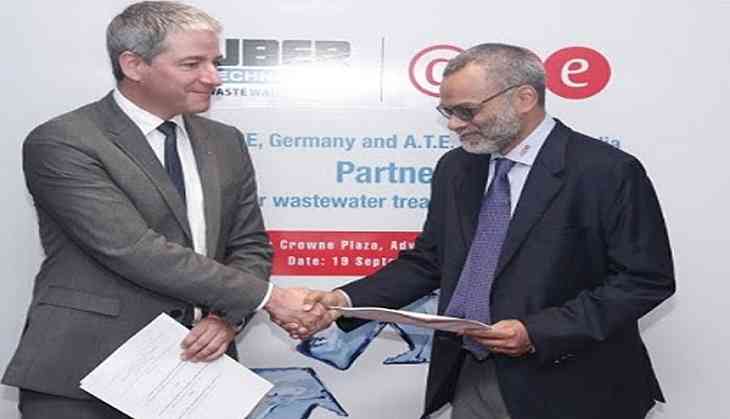 HUBER SE, Germany, a global leader in the field of water, wastewater and sludge treatment has decided to intensify its activities in the high-growth India and Bangladesh markets through a Joint Venture with the Mumbai-headquartered A.T.E.Group.
The JV will manufacture select HUBER SE products in India, represent HUBER SE in India and Bangladesh, and cater to wastewater treatment and recycling requirements in all parts of India and Bangladesh.
Announcing the collaboration on the sidelines of CII Indian-German Water Partnership Conference, Anuj Bhagwati, Head, A.T.E. Group said, "We are very excited to join hands with HUBER SE in A.T.E. Envirotech to offer cutting-edge technologies for wastewater treatment and recycling. Especially as India builds its infrastructure and industry, we need new approaches and products for wastewater management. We are now able to offer a comprehensive suite of wastewater solutions. This joint venture will serve India and Bangladesh with HUBER products, and also cater to industrial wastewater treatment projects in major international markets, leveraging HUBER's large network."
Georg Huber, CEO, HUBER SE said, "HUBER is a leader in low energy and cost effective sustainable solutions for wastewater treatment. Through this partnership, HUBER brings to India it's innovative and differentiating technologies in the fields of solid liquid separation, membrane filtration, and sludge management with an installed base of over 40,000 installations spread across 60 countries. We will manufacture HUBER products in India - this is our contribution to the mega initiative of 'Make in India' being spearheaded by the Indian Prime Minister, Narendra Modi. A.T.E. will also get access to the world market through HUBER's network for the sale of the industrial wastewater treatment projects."
"All of us see a lot of synergy by working together. A.T.E. Envirotech brings domain expertise in industrial wastewater treatment along with experience in project management, having executed a large number of projects in India and overseas, covering 10 countries. HUBER aims to reach out across India through A.T.E.'s pan-country network, as well as establish a stronghold in Bangladesh through A.T.E.'s presence in Dhaka", said Mr. Franz Heindl, Director International Sales - HUBER SE.
Bhushan Zarapkar, Director Operations - A.T.E. Envirotech Private Limited added, "While A.T.E. Envirotech has been at the forefront of innovative wastewater solutions for close to two decades, there is an urgent need for sustainable, reliable, and cost-effective treatment and recycling technologies. Pollution due to inappropriately treated wastewater continues to rise at an alarming rate. However, instead of looking at wastewater as waste, we must look at it as a valuable source of water. Our endeavour is not only to create effective water management strategies backed by appropriate technologies, but also support the government in its Clean Ganga and Swachh Bharat Mission."
With close to 700 employees and a turnover of 170 million Euros, HUBER group offers game-changing technologies in waste water management. It is a technology company committed to environmental protection with an aim to promote sustainable use of water, energy and resources. In September 2011, HUBER SE was officially granted the status of an authorized economic operator (AEO) of the EU.
Traditionally, Europe and America are the two major markets for Huber contributing 60-70 percent of the revenue. India's wastewater treatment segment is now showing promising growth potential and is expected to grow from $3.3 billion in 2015 to USD 6.78 billion by 2020 at a CAGR of 15.3 percent. Huber is expecting the India business to be the third largest market after Europe and America, together with China, in the next five years. The company is also committed to manufacturing in India so as to reduce the import component in a step-by-step manner.
A.T.E. Envirotech was established in 2000 offering comprehensive, innovative and cost-effective wastewater treatment and recycling solutions, including Zero Liquid Discharge (ZLD). As a result of continuous process development, A.T.E. Envirotech has introduced several novel methods for treating industrial wastewaters. The company, which became a part of the A.T.E. Group in 2008, undertakes turnkey projects as well as upgrades existing plants through value-added products and processes and caters to a wide spectrum of industries such as chemicals, petrochemicals, textiles, food and beverages, dairy, sugar & distilleries and pharmaceuticals.
-ANI