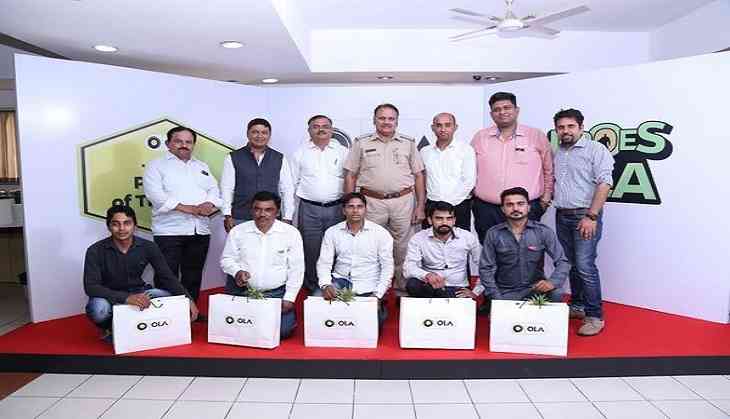 App-based transport aggregator Ola on Monday launched 'Heroes of Ola', a multi-city programme where driver partners are felicitated for their exemplary customer service. Select partners were felicitated by officials from Gurugram Traffic Police, Road Safety Officers (RSO) - Gurugram, and senior officials from Ola, in the presence of their family members at an event in the city.
The 'Heroes of Ola' have been selected basis customer feedback received by Ola through various interactive channels like social media, emails, and in-app feedback. It is a special initiative aimed at recognising these exceptional driver partners and to motivate the entire partner community to offer exemplary service at all times. Besides Delhi-NCR, the program has been kick started in various cities such as Mumbai, Bengaluru, Chennai, Kolkata, Pune, and Hyderabad, and will be conducted every month in the presence of authorities, city officials, driver partners, and their families.
"Customers write in through various channels appreciating the partners, and these stories are often heroic and often tear-jerking. With Heroes of Ola, we want to encourage such a culture of service among our 9, 00,000 driver partner community and share these inspiring stories with the entire world. The initiative will go a long way in ensuring customer delight as these heroes go about serving the mobility needs of a billion Indians," said Nitesh Prakash, Senior Director at Ola.
"It is great to see corporates like Ola come up with such initiatives to recognize the selfless and noble acts of their driver partners. At a time when we are surrounded with news on apathy and harm, initiatives such as these will serve as a constant reminder of the good and kindness that still exists among us. We hope this program will set a benchmark for the community at large and motivate people to extend support and spread compassion," added Hira Singh, ACP Highway - Gurugram Traffic Police.
One such 'hero' is Vinod Kumar, an Ola driver partner who displayed exemplary presence of mind to make way and clear traffic for an ambulance which got stuck in a logjam.
"As a driver partner, I strongly believe that I am responsible for the safety of my customers and all citizens as well as be a responsible citizen myself. It's a big honor for me and my family to get felicitated by the Gurugram Police on such a huge stage. I thank Ola and urge my fellow driver partners to serve their customers and the community at every opportunity," he said.
'Heroes of Ola' is expected to expand to other regions across India, recognizing and acknowledging driver partners who are championing the cause of great experience for customers and public good at large.
The winners included driver partners across categories like Ola Mini, Ola Micro, Ola Prime, Ola Share, and Ola Auto. Customers can submit their driver partner appreciation stories either through social media, through e-mails or in-app feedback using #Heroes of Ola.
Earlier this month, Ola announced the launch of Ola Partner World (OPW), a one-stop-shop for all needs of driver partners registered on the platform. Ola Partner World caters to their various professional and personal needs in a sprawling ambience with best-in-class facilities. Spread over 20,000 square feet, the first Ola Partner World was piloted in Bengaluru at Murugeshpalya, earlier this month for select driver partners and has now been opened up to all partners. Ola plans to extend such a facility to other cities in the country over the course of this year.
Ola has also created engagement programs like Ola Partners League (OPL), partnership with cricket academies to offer scholarships to driver partners' children; helping drivers in filing their income tax returns, medical camps for free check-ups among other initiatives. With initiatives like Driver Melas and skilling programs, Ola has enabled lakhs of driver partners to lead fulfilled lives.
-ANI