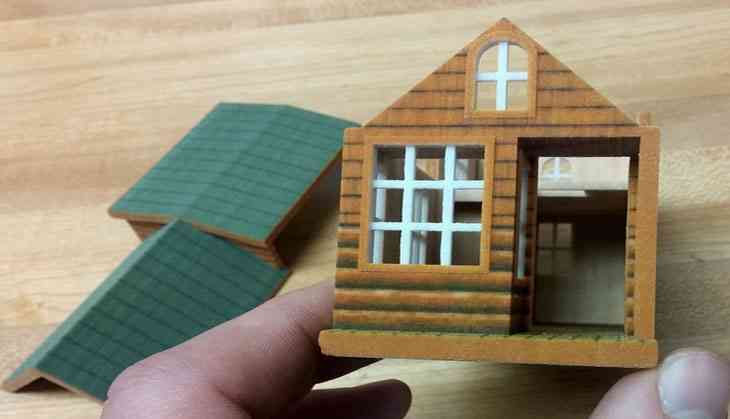 You can't put a price to the joy of owning a house or 'Apna Ghar'. It holds more value for those who are living on rent and may have to shift from one place to the other due to the whims of nasty landlords. With banks queue up with exciting offers and when the government has also announced subsidy for first-time home buyers, there are enough reasons to have a roof over one's head.
Though the feeling of owning a house is great, the process is not so simple. To find the right property at cheapest loan EMI rates, you might have already prepared a budget for your current expenses. But is it enough to consider the home loan EMI only while considering the expenses? In addition to loan EMI rates, there are expenses as well which would arise in your new house. Moreover, while computing the 'total' cost of a house, don't you think, you should also consider the cost associated with planning for securing your family's future and ensuring the timely repayment of loan in the event of your sudden demise or if there is an accident?
What would be the 'actual' cost of owning a house?
If you think, it is only home loan EMIs that you may have to pay when you move into your house, then have a look at some of the expenses that will also become part of your budget in your new home:
| | |
| --- | --- |
| Type of Expenses | Amount (in Rs.) |
| House tax | 2,000-5,000 |
| Registration Costs | 2,00,000-4,00,000 |
| House Maintenance | 8,000-10,000 |
| Water Charges | 1,000 (depends on consumption) |
| Car Parking Charges (one-time) | 2,00,000-5,00,000 |
| Social Maintenance (like expenses on repair and maintenance of lifts, including charges for operating the lift) | 2,000-5,000 |
| Interior Decoration Cost (initial) | 1,00,000-5,00,000 |
| Security | 500-1,000 |
| Monthly expenses of a family (without considering home loan EMIs) | 5,13,000-15,00,000 approx. |
Thanks to the inflation rate, these expenses will only move upward. Though, by moving into your house, you may save your rent, one new expense will add to your list—home loan EMI.
Furthermore, there are expenses like household expenses, credit card bills, clothing, child's education fee, higher education, bills, marriage goals, fuel expenses, etc.; which are always there, irrespective of the fact whether you are living in a rented accommodation or owned house. In fact, your kitchen expenses might have seen an upsurge when you move to your house, given the fact with more guests coming to your house. Then there are gadgets, appliances and home decoration items which are more freely bought after the ownership of the house.
Now, when you know that it is not only the burden of home loan EMIs that you have to take care of, what should be your next step? How can you ensure that the timely repayment of home loan even in your absence?
How to secure your family's future financially?
Add term insurance policy to your insurance portfolio
When you decide to buy a term insurance policy, you get the protection against two main risks: become eligible to the following benefits:
Risk: Untimely death
Solution: In the event of your sudden death, your nominee will get a lump-sum amount which can be used to meet various expenses, including daily household expenses and repayments of loans.
Risk: Loss of earning capacity due to a critical ailment
Solution: Add critical illness cover to your term insurance policy and get lump sum pay out on diagnosis of life threatening diseases like renal failure, heart attack, cancer, etc. Insurers like ICICI Prudential offers critical illness cover for 34 ailments along with an additional pay out in case of an accident.
Why it makes sense to have a term insurance policy?
Life is uncertain and we never know what will happen next. So, if you are making a big investment like house, it is necessary to go with a term insurance policy which secures you and your family financially in case of any mishap. It ensures that unforeseen events like death, critical ailment and disability do not affect yours and loved one's life.
When you apply for a home loan, the lender might also offer you a home loan insurance policy. This insurance will ensure that in case of your death or disability, the bank will get its loan EMIs on time. While, it is good to add this cover, you should also buy a term insurance for an additional security.
| | | |
| --- | --- | --- |
| Scenarios | Home Loan Insurance | Home Loan Insurance + Term Insurance |
| Death Cover | Available | Available |
| Permanently Disability Cover | Available | Available |
| Critical Ailment Cover | Not Available | Available |
| Partially Disability Cover | Not Available | Available |
| Coverage remains fixed | It decreases as per the loan tenue | It remains fixed |
| Tax Benefits | No | Available |
How to buy term insurance policy?
Though, you can buy term insurance offline also, it is advised to go with an online option to save both your time and money. Since a customer buys the policy directly from the insurer with no involvement of agent, the insurance company saves distributor's margin, which is further passed on to a policyholder in the form of cheaper premium rates. Most of the insurance companies have their live chat facility and toll-free assistance facility, where you can call to seek clarity.
How much it cost?
A term insurance policy is the cheapest insurance option that you can find in the market. A 27-year old male needs to pay only Rs 8,915 per annum to get Rs 1 crore coverage. The prices can be further curtailed if you buy the policy online. As there is no agent or intermediary involved, the insurer makes a saving which is then further passed on to a policyholder in the form of lower premium rates. Thanks to the online mode, you can buy the insurance policy from the comfort of your home as well.
Conclusion
Remember, your income backs your decision of buying a house, and a term insurance is the perfect way to secure your income, and your family too!