Reliance Jio has made some major changes to its calling plan on Wednesday due to the ongoing debate on the IUC (Interconnect Usage Charge) in the world of the telecom industry. Jio has ended its free calling services to other telcos numbers for its subscribers. With this shocking announcement, Jio has broken its free voice calls promise.
Now, Jio will charge customers for levying the IUC charges on all outgoing calls to other networks. The Telecom Regulatory Authority of India (TRAI) had set the IUC charge which is at 6 paise per minute and now, Jio has imposed this new plan on its customers. The new regulations have been implemented from Wednesday (9 October).
Jio has released a statement and said to its customers that due to the undergoing regulatory policy changes for mobile-call-related charges, Jio is compelled to recover IUC charge for Non-Jio mobile voice calls.
All you need to know about IUC. pic.twitter.com/svdSsrmT5s

— Reliance Jio (@reliancejio) October 9, 2019
All calls to non-Jio mobile numbers will be charged at 6 paise/minute, from your next recharge, post 10th October.
However, Jio has given some relaxations to its users by giving some additional data, to ensure no effective increase in tariffs for its customers.
Meanwhile, call from Jio to Jio is free, also landlines and those made over apps such as WhatsApp will remain free.
Notably, Jio users who want to make a voice call to either Vodafone Idea or Airtel will have to buy new additional top-up voucher of Rs 10, Rs 20, Rs 50 and Rs 100.
Check new plan after implementation of IUC: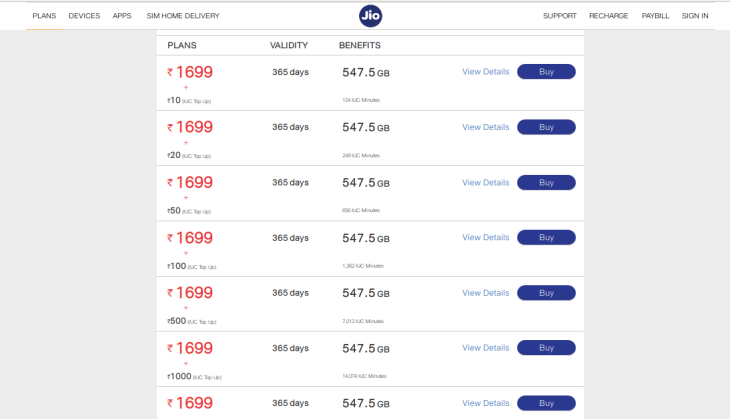 What is IUC?
Interconnect Usage Charge (IUC) is the amount that a telecom operator has to pay to the other telecom operator if its customer makes an outgoing call to other telecom operator's customers. TRAI has decided the IUC charge and now, all telcos have to pay 6 paise per minute.
Also Read: Hike in DA: Modi government Diwali gift for govt employees and pensioners