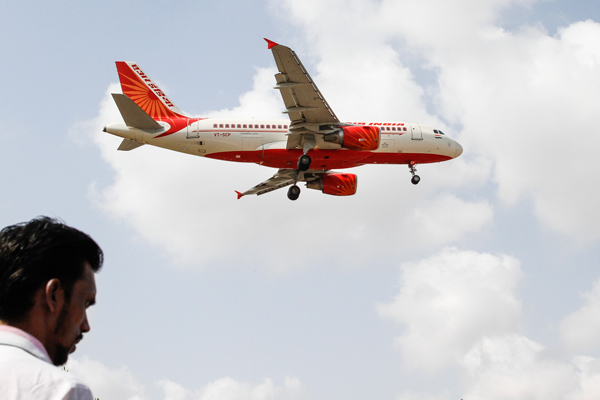 Government-run Air India plans to raise up to $155 million (approximately Rs 1,039 crore) from banks or financial institutions to make pre-delivery payment for three Boeing 777 aircraft that it is to induct in early 2018.
Air India had earlier sought deferment of the delivery of the three Boeing 777-300ER planes, which are part of its 68- aircraft order placed with the US aircraft-maker in 2006.
The state-owned carrier currently has 15 Boeing 777's in its fleet -- 12 of them B777-300ERs and the rest B777-200LRs.
"Air India is pleased to invite your bank/financial institution to submit a fully underwritten offer for Pre- Delivery Payment requirements (PDP) for three Boeing 777-300 ER aircraft," the airline said in the bid document released on its website on Monday.
As part of its fleet expansion plan, the national carrier had in 2006 placed orders with Boeing for 68 aircraft -- 27 Dreamliners, 15 B777-300ERs, eight B777-200LRs and 18 B-737- 800s. The airline has so far taken delivery of 21 Dreamliners, 12 777-300ERs, eight B777-200LRs and 18 B-737-800s.
However, the delivery of three B777-300ERs was postponed in the wake of the downturn in the global aviation sector in 2008 as there was no "cancellation" clause in the original purchase agreement with Boeing Company.
As per the terms of the agreement signed with Boeing Company, Air India has to pay 15% of the gross cost of the aircraft as advance payment 24 months prior to delivery, the tender document said.
The loan would be repaid from aircraft delivery financing process, it said. The three aircraft are to be delivered to the carrier between January-March, 2018.
After procrastination for many years, Air India had in September this year decided to take delivery of the remaining three planes as per the 2006 purchase agreement while it rejected a proposal, made by the Boeing Company, to convert them into single-aisle planes.
The US aircraft-maker had offered that it would convert the order into that for 11 Boeing 737 MAX aircraft.
Of the eight B777-200LRs, the national carrier has sold five to Gulf carrier Etihad Airways for around $350 million (Rs ​2,346.4 crore) in October, 2013, while the remaining three are being operated by the carrier on international routes, which included the recently launched Delhi-San Francisco route.