Lost jobs, shut factories: India's dark export story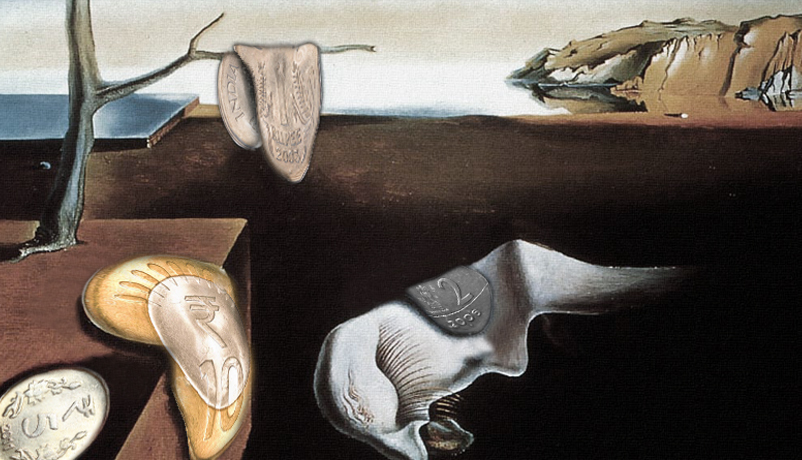 Tall promises
The BJP had pledged to create 2.5 crore jobs every year
New trade policy targeted doubling exports to $900 billion by 2020
Grim reality
In April-June 2015 alone, job creation fell by 43,000
In the last 12 months, exports have shrunk by 24%
In the cotton yarn industry alone, 3.5 lakh people have lost jobs
More in the story
What Nirmala Sitharaman isn\'t telling you about India\'s exports
Did India make a mistake by not joining the 12-nation Trans Pacific Partnership?
The BJP came to power on a tall promise: it would create 250 million jobs in the next 10 years -which means 2.5 crore jobs every year.
Truth is, the Narendra Modi government is moving in the opposite direction.
There's a major crisis brewing in the Indian economy: India's exports are in free-fall. Things weren't this bad even during the global economic recession of 2008-09. In the last 12 months, exports have shrunk by 24% and currently stand at $20 billion.
Also read - US Fed is set to raise interest rate. How will it affect India?
This is deeply alarming because the Modi government had announced a new foreign trade policy in April 2015 to give Indian exports a push and expand its ambitious 'Make in India' mission.
Clearly, the benefits haven't kicked in yet.
The fall in exports has hit the community hard. Many exporters are being forced to shut their manufacturing units. Here's just a small sample of how it's affecting people:
PS Khurana, owner of Harisons Leather's, has had to shut down one of his export manufacturing units in Noida, Uttar Pradesh, due to a lack of orders in the past one year. Only one remains. He says the current situation is "unprecedented": he hasn't seen anything like it in the past 30 years.
"We've stopped getting orders from many of our old buyers. Either they're asking for heavy discounts or just shifting their orders to other countries. It became difficult to operate the two factories so we had to shut one down. This time the situation is very different from the past," he rues.
Ashok Saklani, shares the same story about his apparel manufacturing unit in Okhla, Delhi. "We have reduced our staff by 50%. All our buyers have either reduced their orders or are asking for heavy discounts".
Who does this affect most?
The first stark impact of this slide is joblessness.
With exporters being forced to shut their manufacturing units, the impact is rippling through the job market. Consider this:
The labour ministry conducted a survey for the period between April-June 2015. The findings were very grim: contrary to the all big-ticket talk, net job creation in this period had fallen by 43,000.
Of this 43,000, export-oriented companies accounted for 26,000 of the net fall. During the same period, merchandise exports in India declined by 16.75%.
We've cut staff by 50%. Buyers have reduced orders or want heavy discounts: apparel maker Ashok Saklani
According to Dr Selvraj, Secretary General of Southern India Mills Association, in the cotton yarn industry, a staggering 3.5 lakh people have lost their jobs in the past one year.
Contrast this with the ambitious projections the government had made: that it would generate 2.5 crore jobs every year.
What excuse does the government have? What is it not telling you?
So far, the government has been blaming the economic recession in its key markets for the fall in exports.
In July this year, Commerce Minister, Nirmala Sitharaman submitted a written reply in the Lok Sabha. This is what she said:
That a fall in global demand and fall in commodity prices was impacting the terms of trade for commodity exporters.

That EU countries - which account for nearly 16 per cent of India's exports -- are facing problems of stagnation and deflation.

And that the appreciation of the rupee against the euro was adversely impacting India's exports to EU countries.
While Sitharaman is right about the dip in global demand, she is hiding the fact that other countries have coped with the global recession in a much better way.
Here is what Sitharaman is not telling you.
For the first nine months of 2015, while world exports declined by 11% , Indian exports fell by 17%.

A country like South Africa, which is part of the BRICS nations - had only a decline of 8% in its export value.

India's neighbour, China, which is also a part of the BRICS group, arrested the decline in its exports at just 2%.

Other Asian economies like South Korea, Malaysia, Singapore, Taiwan, Hong Kong and Thailand, have also managed to contain the fall in exports to 10%.
Crisis management: How does India compare with other countries?
The numbers clearly show that the Indian government has performed badly in managing its export policy in the last one year.
Modi's new foreign trade policy had set a target of doubling the export of goods and services to $900 billion by 2020. It currently stands at $470 billion.
Given the decline in Indian exports, it's highly unlikely that India will be able to meet this target.
According to Crisil Research, the decline in Indian exports is structural, not just cyclical. A cyclical decline implies that exports are falling only because of a lack of demand in the international markets. Structural decline means the fall in exports is more because of faulty policies.
According to an expert from a lobby group working with engineering exports, the government blames the decline in demand for petroleum products as the main reasons for the fall in Indian exports. But this he says is a poor alibi.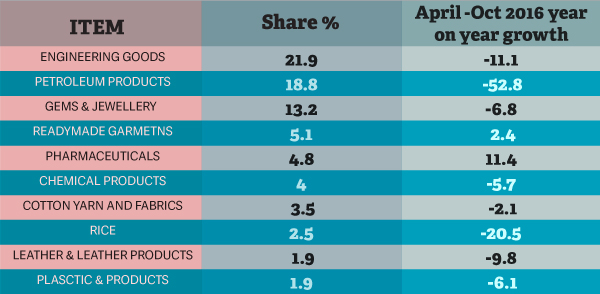 While it is true that there is a decline in demand and price of petroleum products, there is no reason why exports in cotton yarn or engineering etc should be so adversely impacted.
Also read - WTO Ministerial in Nairobi: there's much at stake for India
Crisil has other explanations. Its report says:
A comparison with other emerging Asian economies suggests exporting goods out of India is a cumbersome process.

The country ranks poorly on most non-tariff barriers such as poor port infrastructure, delays due to 16 bureaucratic hassles, and a cumbersome documentation process, amongst others.

This makes exports costlier compared with most Asian peers, decreasing India's competitiveness.
Admittedly, there have been some positive developments of late:
India has moved up 16 paces in a World Economic Forum ranking on global competitiveness for 2016. It now ranks 55th out of 140 countries.

Similarly, India has moved up 12 places to 130 out of 189 countries in the World Bank's 2015 'Ease of Doing Business' ranking.
But this is not enough to make India competitive in a declining export market. For one, India has been left behind in a major development.
Danger Ahead: what has Indian been blind about?
According to Crisil, a deal called Trans Pacific Partnership, or TPP, was struck between 12 countries in November. Australia, Brunei, Canada, Chile, Japan, Malaysia, Mexico, New Zealand, Peru, Singapore and the US are part of the TPP.
Representing around two-fifth of the world output and a quarter of global trade, TPP is expected to be a game-changer for the world economy when it comes into force.
In 2015 till September, Indian exports fell by 17%. South Africa's fell by 8%, China's just 2%
This is not good news for India as it is not a part of this arrangement.
Right now, India enjoys duty-free access to the US markets under the Generalised System of Preferences Scheme. This scheme offers duty-free access to almost 5,000 exports from developing countries.
TPP countries are important export destinations for Indian products and account for around 25% of its exports.
For example, the US alone is a destination for around 49% of India's total textiles exports and 24% of its exports in apparel and clothing.

In terms of agricultural products, over 40% of India's meat and offal exports and 25% of its fish exports are to TPP countries.
By failing to be part of the TPP, India has further jeopardised its future in exports.
The Indian government urgently needs to forge bilateral deals and make its exports more competitive. Otherwise, the dream of inviting the world to "make in India" and create jobs for youth will meet a harsh reality.
Which will have even harsher repercussions.
More in Catch:
7.4% growth in last quarter: But economists question govt data
Govt panel accepts most Congress demands. Will the GST bill pass now?
NGT's diesel car ban hurts the industry. But will it curb pollution?