7.4% growth in last quarter: But economists question govt data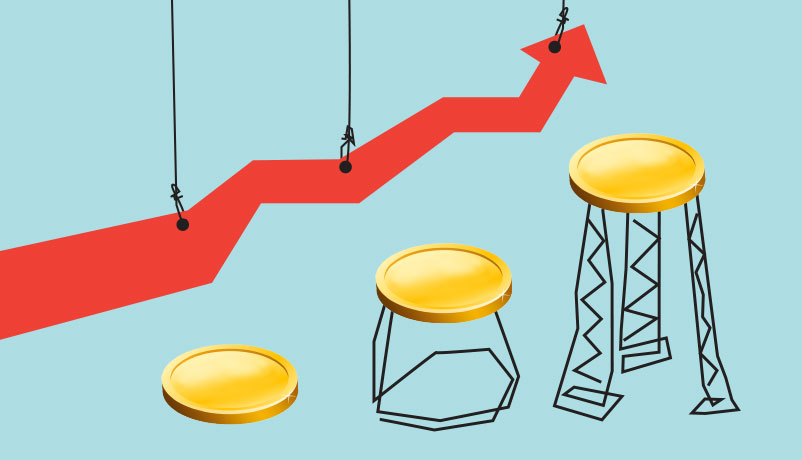 Growth story
Official figures show good economic growth
But several figures seem out of place
Sector numbers
Declining exports contradict manufacturing growth claims
A second year of drought makes agricultural growth unfeasible
More in the story
Perhaps the single-most important plank in Narendra Modi's campaign for last year's general election was economic development. It paid off spectacularly, with almost a third of the electorate rooting for the Bharatiya Janata Party-led National Democratic Alliance.
A year and a half has passed since and many are raising the obvious question: Have achhe din come?
On its part, the Union government is trying hard to prove it has. It has put out several statistics for the argument:
The gross value added (GVA) in India's economy grew at 7.4% (July-September)
The growth was 7.1% in the previous quarter
The manufacturing sector grew at 9.3%
The agriculture sector grew at 2.2%
Impressive figures. Problem is, not everybody is buying them.
"Exports are declining, the core sector is not growing, even IIP numbers have been below par. Then how is such robust GVA growth possible?" asks Rajiv Kumar, a senior fellow at Centre For Policy Research.
Read- Failed tea party: why Govt's been advised to go against promises made on GST
IIP, or Index for Industrial Production, shows a 4.7% growth for the manufacturing sector - nearly half of the official growth figure.
The tepid IIP number is supported by Nikkei's Purchasing Manager's Index (PMI). After registering a six-month high of 52.7 in July, the index declined to 52.3 in August and 51.2 the next month.
The index is based on companies' order books. A reading above 50 indicates increase in industrial activity. On Monday, the November reading put the index at a mere 50.3.
Add to these declining exports for the past 11 months, and no wonder that economists like Kumar are befuddled with the government's claim.
The government has its defenders too. "It is not fair to compare IIP and PMI with GVA numbers. All three use different parameters," said Anis Chakravarty, senior director of Deloitte India.
But the fact remains that India's exports contracted 17.53% to $21.35 billion in October from $25.89 billion in October 2014. Various economic indicators in the past six months indicated towards tepid growth in demand - both domestic as well as international.
"There are many controversies regarding the growth numbers. The manufacturing series raises the most doubts, not matching with any other indicators," said Abhijeet Sen, a member of the now disbanded Planning Commission.
Many experts find the agricultural growth strange, too, coming after two years of drought.
Also read: Why easing FDI norms could sound the death knell for #MakeInIndia
So far rainfall has been deficient - short by at least 20% - in 302 of India's 640 districts this year. Nine states have declared a drought it have sought compensation from the Centre.
"When we were expecting negative growth in agriculture, the government is showing growth higher than the previous quarter," said agriculture economist Ashok Gulati, who was earlier the chairman of the Commission for Agricultural Costs and Prices.
Gulati pointed out that the government imported pulses and other agricultural products in the second quarter. "This means the production in agriculture sector was not good, but that does not reflect in the numbers. I hope the government numbers are authentic."
That's something that can't be ruled out, given India's track record.
In 2011, Rahul Khullar, the then Commerce Secretary, said export figures were inflated by $9.4 billion due to miss-classification of some items and data-entry errors. A massive correction followed in January 2012 and industrial production growth was revised to 1.1% from 6.8%.
Hopefully, this government hasn't made a mistake like that. Inflated numbers may boost market sentiments in the short term, but in the long run they harms the country's image.
More in Catch:
Jaitley's dilemma: 2 ways to find money for pay hikes, neither is easy
#ChennaiFloods: A 100-year record broken. A city cut off
Your shopping on wings: Amazon's drone delivery is almost reality
Look Down: Singapore, Mexico & Finland are going underground to build cities