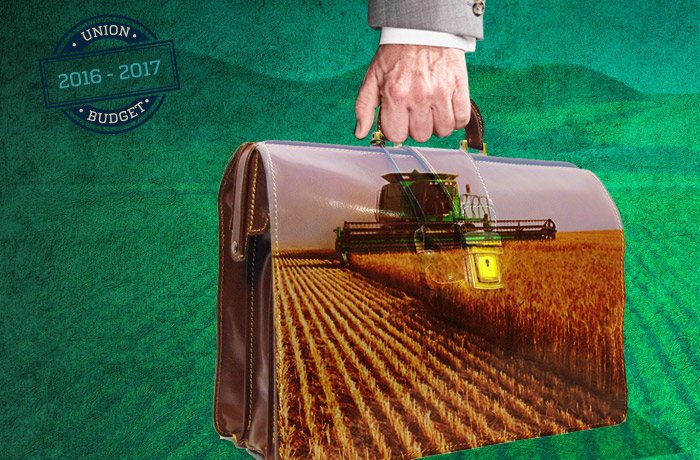 Much has been said about the Union Budget being farmer-friendly. Indeed, the government has promised a lot of money to the farm sector.
This is one of the worst phases in the recorded history of Indian agriculture. Monsoon has been deficient for two consecutive years, while unseasonal rainfall has played havoc with farm output.
And Arun Jaitley's Budget makes it seem like the Narendra Modi's government is all out to salvage the situation. That, however, would be misleading.
The funding push is limited to a handful of sectors, such as insurance and irrigation. Even for those, it seems, this will do little to mitigate distress as the situation is either already too bad or needs a solution at the structural level.
For other sectors, the allocation hasn't really changed much from previous Budgets. In fact, in many areas, the Centre government has simply sought to shift more of the burden on the shoulder of the states.
Total budgeted expenditure
The Budget has allocated Rs 35,983 crore for the Department of Agriculture, Cooperation and Farmers' Welfare for 2016-17 - more than double the Rs 17,004 crore allocated in the previous Budget.
But that allocation was about 11% lower than the year before.
In fact, in 2015-16, a year when the country faced its second consecutive drought, the government actually revised down even that Rs 17,004 crore to Rs 15,809 crore.

In the latest budget, Rs 15,000 crore is an interest subsidy to farmers. And that is nothing new - a modest 15% increase from Rs 13,000 crore the year earlier.
There are four main Yojanas (schemes) exclusively for agricultural development.
1. Krishonnati Yojana
Allocation for the next financial year has been slashed 20% from this year's levels and 27% from the last. It clubs six missions:
National Mission on Horticulture
It has been given Rs 1,629 crore this Budget - down 17% from the last and 16% from the one before that.
National Mission on Agriculture Extension and Technology
Includes sub-missions on seeds, plant protection, agricultural mechanisation and information technology. Allocations dipped in the previous Budget and has been increased this time to Rs 1,300 crore (18% more than the last allocation, but only 12% more than the one before that).
National Food Security Mission
Under this, the government supports foodgrain production so that the country is self-sufficient. This year's allocation of Rs 1,705 crore looks impressive - 31% higher. But it is actually 9% lower than two years ago.
Integrated Scheme on Agricultural Marketing
While the budget mentions opening a platform for farmers to sell their produce online, funding to this marketing scheme hasn't picked up. Rs 883 crore given this year is about 9% higher than last year, but 9% lower than two years ago.
National Mission on Sustainable Agriculture
This scheme spent Rs 1,268 crore in 2014-15, but got just Rs 300 crore for the next year. The big drop was partially explained by the Centre giving more money to the states, and cutting down funds for several schemes like NMSA.
Even then, slashing allocation to a quarter seemed like a huge cut. Worse, the government expects to spend only Rs 207 crore.
This Budget, the mission has been given Rs 1,101 crore - 13% lower than the money spent two years ago.
National Mission on oilseed and oil palm
The only one to get more funds and also the one with the least allocation: This Budget has allocated Rs 497 crore - 42% higher than Budget 2015-16 and 57% more than the one previous to that.
2. Rashtriya Krishi Vikas Yojana
Rs 8,443 crore was spent on this in 2014-15. But this year's allocation was nearly halved to Rs 4,500 crore (citing the Centre-state sharing). Again, the goverment thinks it will spend only Rs 3,900 crore of that. Allocation for the next year is Rs 5,400 crore.
The schemes with money:
Insurance and irrigation.
3. Pradhan Mantri Krishi Sinchai Yojana (Prime Minister's Agriculture Irrigation Programme)
This was launched last year with much fanfare and an allocation of Rs 1,800 crore in the 2015-16 budget. That was the agriculture ministry's share for the scheme, which also gets funds from the Water Resources Ministry.
All the same, the actual spending has been projected at Rs 1550 crore by the agriculture ministry. And the allocation has been raised to Rs 2,340 crore this Budget.
The government has also announced other measures, such as setting up a Rs 20,000-crore 'long-term' fund. That's welcome. Irrigation, by nature, needs a long-term plan. But all this will do little to solve the drought situation in 10 states.
"The realisation that rural areas are in distress has come a year too late. Had this been allocated last year, we would have mitigated a lot of distress," said Ajay Jakhar of the Bharat Krishak Samaj said. "We don't expect any immediate reduction in farm suicides or rural distress."
4. Pradhan Mantri Fasal Bima Yojana (PM's Crop Insurance Programme)
This scheme was announced in January 2016 and has been given Rs 5,501 crore to be spent in 2016-17. The agriculture ministry already had a crop insurance scheme, on which it is expected to spend around Rs 3,000 crore in 2015-16.
But there are structural issues in crop insurance that the government does not appear to be interested in solving.
The method used to calculate which farmer deserves insurance is controversial. On the one hand is a system where a local revenue official makes manual checks - a process ridden with corruption.
On the other is a weather-based system where the amount of rainfall in a district entitles its farmer to insurance. While this ignores local geographical differences, there have also been cases where the benchmark rainfall was defined as zero, a scientific rarity.
Activists like Yogendra Yadav have argued that insurance payouts are so rare that most farmers are unaware they are even insured.
"Now, more than ever, the farmer needed the government and the Budget. But where is the big announcement for the Indian farmer? This is a business-as-usual Budget for the farmer," he said.
An alternate Budget formulated by farmers' organisation Jai Kisan Andolan, with Yadav, demanded the government spend Rs 1 lakh crore over three years to complete all unfinished irrigation projects.
Alliance for Sustainable and Holistic Agriculture, which campaigns for organic farming, welcomed the Rs 412 crore the government committed to organic farming. But it said the rest of the document was a "PR stunt" as despite promises of being focussed on farmers, it allocated only 1.9% of the budget to the sector.
"Traders are likely to benefit (from the Budget), if at all, not farmers," said Kiran Vissa of Rythu Swarajya Vedika. According to a statement from the farmers' organisation: "No measures have been announced for tenant farmers and sharecroppers, to ensure that bank loans and insurance reaches them, though they are bearing the brunt of the agrarian crisis and farm suicides."
Edited by Joyjeet Das