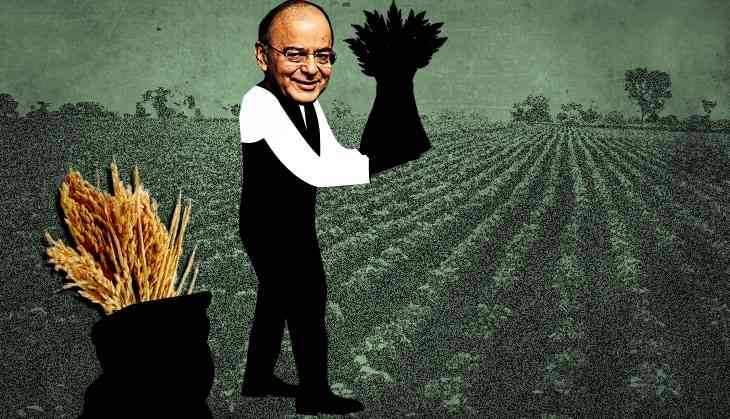 (Arya Sharma / Catch News)
Union Finance Minister Arun Jaitley has tried to give the impression in his Budget speech that agriculture is one of the key focus areas of the last full-fledged budget of his government. However, actual provisions made in the budget hardly bear him out.
"This year's Budget will... particularly focus on strengthening agriculture and rural economy," Jaitley announced, reiterating that the government is committed towards ensuring farmers' welfare.
The speech has about 25 announcements dedicated to agriculture, but when it comes down to tangible action, only 10 new moves have been outlined. Even among these, most comprise mere declaration of intent, without specifying the road-map.
Paltry allocation
First, the total amount of money allocated for the sector has not been hiked significantly, casting a shadow of doubt over the government's avowed goal to double the income of farmers.
Agriculture has got a total of Rs 46,700 crore, up Rs 4,845 crore from in the previous Budget. That's 2.6% of the total Budget, as against last year's 2.55%. A mere increase of 0.5% in spending doesn't square with what Jaitley has described as "a paradigm shift" and "a clarion call" by the Prime Minister to double farmers' income by 2022.
The MSP puzzle
Falling farm incomes has been the running narrative of this sector and Jaitley tried to portray that he was taking the bull by its horns by touching upon the minimum support price (MSP) early on in his speech.
Proudly asserting that his government has already declared MSP for the majority of rabi crops at least at one and a half times the cost involved, Jaitley said it has now been decided that the MSP for all unannounced crops of kharif will also be kept at least at one and half times of their production cost.
Critics pointed out that this was not the reality on the ground.
I am surprised to hear this. Farmers did not get 50% profit over cost of production in the rabi season. In fact the MSP for several crops was in reality less than the production cost.

— Devinder Sharma (@Devinder_Sharma) February 1, 2018
Conscious of the criticism that the market-price that the farmer gets is often lower than the MSP, the FM also announced that whenever price of the agriculture produce market would fall lower than MSP, then the government will purchase either at MSP or try to evolve "some other mechanism".
The absence of detail is telling because it shows the government is yet to come up with ways to ensure that the farmer gets the right price.
Critics pointed out that the government should clearly explain how will it calculate the cost of production. Will it, for example, factor in the land-rent?
Fraud of MSP only for Kharif i.e. Elections:
Cost of production used by govt does not include costs of family labour & land rent, which is the global norm. We reiterate our demand for bringing a law giving farmers the Right to Sell at MSP.

— Sitaram Yechury (@SitaramYechury) February 1, 2018
.@arunjaitley says: In upcoming #Kharif season #MSP of crops to be decided at 50% over cost. But, the question is which cost A2 or F.L #Budget2018 ?
👉C2+50% of #Wheat=Rs 1879/Qt; whereas Govt set Rs 1735/Qt for 2018-19
👉C2+50% of #Gram=Rs 5289/Qt; whereas Govt set Rs 4250/Qt pic.twitter.com/Y1d7D1yBIC

— RamanS Mann (@ramanmann1974) February 1, 2018
This table shows why FM's declaration is meaningless. He has aiming to achieve what the UPA government had already achieved. In fact his NDA govt has further brought down returns over 'A2+FL'. pic.twitter.com/uKgjIBQXoE

— Yogendra Yadav (@_YogendraYadav) February 1, 2018
सवाल यह है कि किसानों को कौन-सी लागत पर डेढ़ गुना दाम देने जा रही है सरकार

अगर लागत में जमीन के किराये का शामिल किया जाता है, यानी C2 पर डेढ़ गुना दाम मिलता है तो वाकई बड़ी बात है

अगर लागत में जमीन का किराया शामिल नहीं है तो इस घोषणा का कोई मतलब नहीं

— Ajeet Singh (@geoajeet) February 1, 2018
Looking beyond mandis
One of the announcements that does signal the right intent on at least one front was about developing and upgrading existing 22,000 rural haats into Gramin Agricultural Markets (GrAMs).
Jaitley was corrected in admitting that more than 86% of our farmers are small and marginal and they find it impossible to directly transact at APMCs (mandis) and other wholesale markets. GrAMS are expected to empower small farmers and help them in getting better prices
For this purpose, FM announced an Agri-Market Development Fund with a corpus of Rs 2,000 crore.
A few other announcements included:
Cluster-model approach

to be adopted for agricultural production

Allocation for

food processing

doubled from Rs 715 cr to Rs 1,400 cr.

Rs

500 cr earmarked for

Operation Green

for assisting growers of perishables like tomato, onion and potato

Restructured

National Bamboo Mission

to be launched with an allocation of Rs 1,290 cr.

Fishery and Aquaculture Infrastructure Development Fund and Animal Husbandry Infrastructure Fund

to be set up, with a total corpus of Rs 10,000 cr.

Kisan Credit Cards to be extended to fisheries and animal husbandry farmers to help them access working capital.

100% tax deduction for the first five years for companies registered as farmer producer companies with a turnover of Rs 100 cr and above

Volume of institutional credit for agriculture sector hiked from Rs 10 lakh crore in 2017-18 to Rs 11 lakh crore for 2018-19.
Many of these decisions are standard measures that are a part of the budget every year. There are a few targeted interventions like Operation Green, Bamboo Mission, new funds for fishery and animal husbandry. However, overall, the budget has largely been received so far as a dampener, as far as the agriculture sector is concerned.
Edited by Joyjeet Das