Catch Team
| Updated on: 11 February 2017, 5:44 IST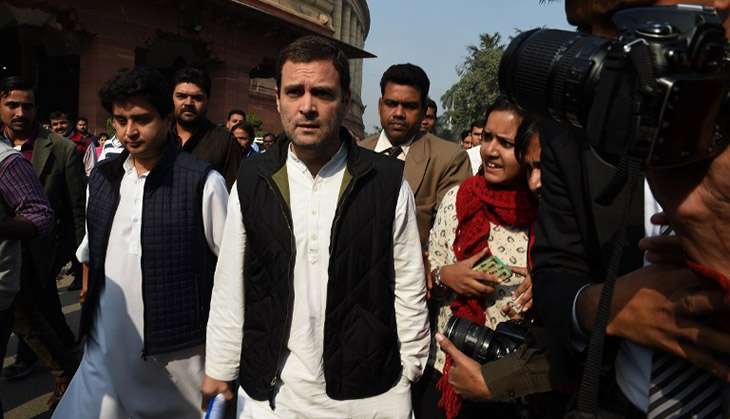 Soon after Finance Minister Arun Jaitley presented the 2017-18 Union Budget, the Congress labelled it a damp squib which lacked vision. The party slammed it for not having enough provisions for job creation - a promise made by Prime Minister Narendra Modi during his election campaign in 2014.
Congress vice-president Rahul Gandhi said they were expecting fireworks, but it was a budget ofsher-o-shayari (urdu poetry). "There was nothing for the farmers and the youth," said Rahul, who went on to add, "The main issue facing India today is creation of jobs. How are you going to solve that problem? On that front there was nothing. No vision, no idea and, for farmers, absolutely nothing."
The Gandhi scion said it was 'shameful' that farmers found 'no mention' in the budget. "Farmers are suffering and there is a need for waiving their loans. There was nothing in the budget. These are fundamental issues," he added.
Several other senior Congress leaders took to Twitter to express their disappointment over the Budget. The party's chief spokesperson, RS Surjewala, called it a "staid, unenterprising jugglery of figures to divert attention".
Surjewala, in a series of tweets, targetted the government for being "zero on job creation" and tweeted, "No roadmap or numbers to fulfill PM Modi's promise of 2 crore jobs a year. Where are the jobs Mr. Modi & Mr. Jaitley?"
Reacting to the Budget, Congress President Sonia Gandhi's political secretary Ahmed Patel said: "The Budget is disappointing. It has no road map for creation of jobs, increase in farmer income and decrease in house prices."
He went on to add that informal workers, small traders, farmers, women, students and central police personnel have all been left out in this budget. "Many times they said budget will be in favor of poor,women and those in rural areas. But if you scratch the surface there is nothing. Surprisingly, compared to last year, social sector & SC/ST spending has reduced. Publicity expenditure has gone up," Patel tweeted.
Congress leaders also raised the ill-effects of the demonetisation and Patel pointed out: "Where has the windfall received from petrol and diesel taxes gone? And clearly there is no windfall & relief from demonetisation."
Even Surjewala claimed that India's poor, farmers and middle class deserved a "balm of respite" from the losses suffered by demonetisation but that wasn't the case. "What about collapsing private investment? What's the roadmap for its revival? FII's have withdrawn ₹76000Cr post demonetisation," Surjewala tweeted.
Other parties' reactions
Even other Opposition parties severely criticised the Budget, claiming it had nothing new to offer.
Bihar Chief Minister Nitish Kumar and Rashtriya Janata Dal chief Lalu Prasad Yadav termed it 'a big disappointment', saying the state got nothing new in the Budget.
"The budget has disappointed the people. There is nothing that could speed up growth and development in the country. It is not going to help the common people, farmers and the youth," Nitish told the media.
The Bihar CM also questioned the silence maintained by the Finance Minister on how much black money has been recovered post demonetisation, and whether the note ban had any positive impact on the economy. Meanwhile, Lalu questioned the government's silence on how many jobs had been created in the last year, and raised the issue of Modi's promise of creating two crore jobs each year. He too called the budget "anti-poor and anti-farmer".
The Samajwadi Party's Naresh Agrawal termed the budget 'hopeless' and touched upon the issue of capping cash donations to political parties. He maintained that the move will not help contain corruption. He too claimed that it had nothing for farmers and job creation.
"It's a totally negative and hopeless budget," Agrawal said.