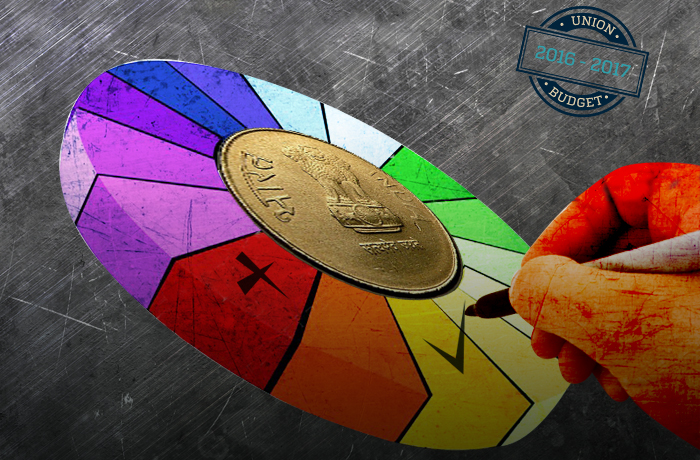 This Budget
111% jump in allocation for agriculture
More money for MGNREGA; Health cover for EWS
What does it mean?
After 2 droughts agriculture pushed to a corner
India Inc\'s top line hasn\'t jump-started
The big question
Will we get out of the mess?
Everybody understands the importance of the General Budget, but probably not the Budget itself. To sum it up in a line: a Budget is usually an exercise in which the finance minister of India robs Peter to pay Paul.
For the last 25 years - since the beginning of 'Liberalisation' - successive finance ministers robbed Peter, the farmer, to pay Paul, the businessmen.
The general strategy was to shift population from villages to urban areas, increase the share of manufacturing and services in the country's gross domestic product and make India less dependent on agriculture.
Read: #Budget2016 gives a sense of deja vu
Monday's Budget was different: Agriculture was given a 111% raise in allocation (Rs 35,983 crore against the previous Budget's Rs 17,004 crore).
The NDA government, known for pro-market policies, presented a Budget whose focal points were farmers and the rural economy.
Finance Minister Arun Jaitley mentioned the word 'farmers' 32 times in his speech. He sought to do away with the criticism that his government was responsible for their distress.
'This kind of Budget should have been given last year. Now much of the ground has been lost'
India has faced two successive droughts: something that happened only once earlier - in 1965-66 and 1966-67 - after independence.
No wonder, the sector has grown only 1.5% until now in the 12th Plan period (2012-17) against the target of 4%.
The back story
The NDA government sought to turn the Indian economy around only through investment and incentives for industries.
This lead to a crash in the demand, which accounts for 68% of the Indian population. And the corporates supposed to benefit from tax sops reported declining revenue.
Also read- #Budget2016: Jaitley has set lofty targets, but can he achieve them?
India, Inc's top line shrank for the fourth consecutive quarter during October-December. Aggregate sales revenue of 4,084 companies listed on Indian stock exchanges declined 5.5% compared with the same three months in 2014.
As a result, the corporate sector held back investment, which has hurt job creation.
In such a situation, the government had to take it upon itself to provide a momentum to the rural economy. It allocated Rs 87,765 crore for rural development, including Rs 38,500 crore under Mahatma Gandhi National Rural Employment Guarantee Act (MGNREGA). That just reiterates the fact that those in power no longer considers the scheme to be an "epitome of failure".
The economically weaker sections have been taken care of by providing for a health insurance of Rs 1 lakh per family. Senior citizens from the section will receive a health cover of Rs 1,30,000 per annum.
The investors community did not like the taxes and the markets ended in the red
The allocation for roads and infrastructure was increased to Rs 97,000 crore (from Rs 70,000 crore).
All social sector spending has been allocated for without tinkering with the fiscal deficit target of 3.5% of the GDP.
Where does the money come from?
However, to dole out such allocations to farmers and the poor without borrowing more from the market, the government needed to tax the rich and industry more. That's what Jaitley did.
The finance minister taxed high net worth individuals, Hindu undivided families and firms with a dividend income of more than Rs 10 lakh with an additional tax at the rate of 10%.
Read more- Not a suit boot ki sarkar: Govt silences critics with pro-farmer #Budget2016
He also increased Securities Transaction Tax on sale of an Option in Securities, where Option is not exercised, from 0.017% to 0.05%.
The investors community did not like it and the markets ended in the red (down 152 points at 23,002).
In the era of odd and even policy, Jaitley decided to put an infrastructure cess on all small petrol/LPG/CNG cars (not exceeding 4 metre in length) with an engine capacity below 1200 cc.
Since Liberalisation started, finance ministers have robbed the farmers as well as the businessmen
Diesel cars with engines not exceeding 1500 cc will bear an additional duty of 2.5%. Sports Utility Vehicles - the love of India's rich - have been punished with an additional 4% 'high-capacity' tax. An additional 1% luxury tax has been slapped on all cars above Rs 10 lakh.
Apart from this, tax on corporates with a turnover of more than Rs 5 crore has been maintained at 30% - much against last year's promise of reducing it to 25% in a gradual manner.
Will this budget revive the economy?
Doubtful. As Ajay Vir Jakhar, chairman of Bharat Krishak Samaj, said: "This kind of Budget should have been given last year when Indian farmers needed support. Now much of the ground has been lost. But we hope this will give some respite to the rural economy that has been shattered due to the mistakes of the past."
One can only hope. For Peter has been robbed for two decades.
Edited by Joyjeet Das
More in Catch:
These insane numbers show how influential the Oscars are around the world
In photos: how one scribe feels about JNU after living next to it for four years
An 'anti-national' JNU student's letter to Smriti Irani
View from the ground: Why we may never know truth about Murthal 'rapes'