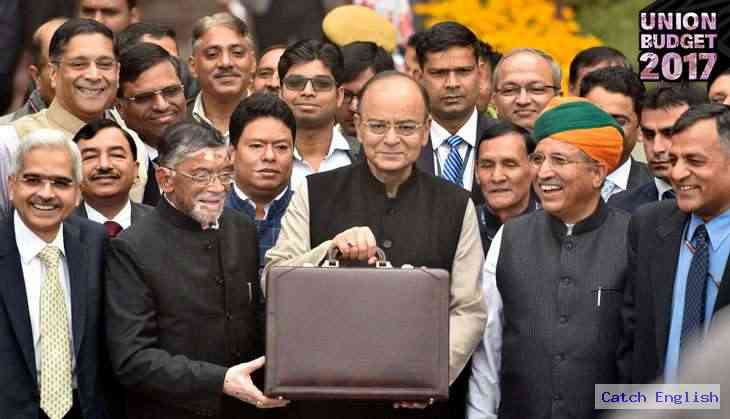 In last year's Union Budget, Finance Minister Arun Jaitley had rightly focussed on the need to generate employment opportunities in the country.
In this year's Budget, Jaitley has attempted to consolidate last year's measures aimed at creating jobs, and improving income levels of farmers and poor sections of the Indian society.
His focus on youth, farmers, rural development and infrastructure development form important pillars of the development strategy of the NDA government.
Important increases in allocation
The increase in budget allocation for agriculture and allied activities by 24% to over Rs 1.87 lakh crore in 2017-18, and that for roads by 12.5% to Rs 64,900 crore shows the good intentions of the government towards promoting employment opportunities in the economy, particularly in rural areas.
Similarly, the fund allocation for MNREGA has been increased by 24.6% to Rs 48,000 crore. A big boost has been given to the PM Awas Yojana by increasing the budget from Rs 20,075 crore in 2016-17 to Rs 29,043 in this year's budget.
The National Livelihood Mission (Rs 4,849 crore) and jobs and skill development (Rs 4,089 crore) have also received similar boosts, with an increase of 31.4% and 41% respectively. Crop insurance has received a 64% jump in allocation. The government aims to bring one crore households out of poverty by 2019.
An amount of Rs 4,500 crore has been earmarked for the Deen Dayal Antyodaya Yojana.
MSMEs with an annual turnover of less than Rs 50 crore have been granted a tax rebate of 5%.
The allocation for the PM Mudra Yojana has been halved to Rs 1,040 crore, and that for Startup India has almost remained unchanged. The allocation for the PM Employment Generation Programme (PMEGP) has declined from Rs 1,139 crore in 2016-17 to Rs 1,024 crore in 2017-18.
However, the credit support programme has received a big jump from Rs 50 crore in last year's budget to Rs 3,002 crore in this budget.
The issue of employment generation
So, how is this budget is going to address the issue of employment generation?
The overall budgetary allocations indicate that there is unlikely to be a major difference, at least in the short and medium term.
The average days of employment under MNREGA have tended to decline over the years, and remain low at 38.8 days per household.
Under the PMEGP, effective implementation of the programme remains a major concern. This programme received a total of 3,62,619 applications between 1 July 2016 and 31 January 2017. However, less than one-third of applications were forwarded to banks for financing. Banks only extended finance to 6,457 applicants, showing a huge gap in the demand and availability of credit to the applicants.
The sluggish growth in industry has also affected employment generation. Though a few sectors such as IT/BPO, textiles and metals have contributed substantively to employment generation, a large number of sectors such as gems & jewellery, handloom/power loom, leather, automobiles and transport have witnessed a decline in employment.
Rapid automation in industry and the services sectors have also reduced job creation, more so, as most of the employment being generated is of the casual and contractual variety, with hardly any social security.
The payment of minimum wages as yet remains elusive.
Research shows that labour legislations are no more major constraints in employment generation. However, a large segment of big industries, including corporate houses and the government, are crying for reforming labour laws.
The major constraints which a large number of MSMEs are facing relate to access to cheaper working capital, power, roads and good governance, which are ritually addressed in annual budgets, but remain elusive for many entrepreneurs.
Drastic efforts needed
Unemployment among the educated, that too among women in particular, is a major concern which needs more drastic efforts than the existing ones.
Nearly one-fifth of graduates and technical diploma holders are unemployed.
Under the Skill Development Mission, about 1.04 crore youth have been trained till 2016, which was a big jump of 36.8% to 2014-15. However, such skilling initiatives have less than desired pace in being converted into decent employment due to systemic bottlenecks.
For example, the New Apprenticeship Act by the NDA government has facilitated the skill training of youth in industry. However, a sizeable number of youth are unable to get jobs in industry after their apprenticeship.
Job creation in the country is also likely to be affected by the protetionist policies of the current Donald Trump administration in the US, and other developed countries, particularly in IT-related services. In his Budget speech, the Finance Minister could hardly elaborate on the likely impact of fluctuations in the external sector of the Indian economy, and resultant impact on jobs and incomes of households.
The Economic Survey admits the impact of demonetisation, particularly on the informal sector of the Indian economy, which employs about 90% of the workforce. There is anecdotal evidence of workers losing their jobs due to demonetisation.
The redistributive measures are highly lopsided, as backward districts, accounting for 40% of total poor, do receive proportionately much less in almost all flagship schemes. Such issues are likely to have adverse impact on the pace of poverty reduction and employment generation in coming years.
The biggest challenge
One of the major worries is the deceleration in investment, both in the public and private sector, during the last three years. In fact, investment in private sector registered an absolute decline.
Rising bad loans have had a dampening impact on investment and employment prospects. The non-performing assets worth $191.1 billion in 2016 constitute over 8% the GDP. The present Budget seems to have inadequately addressed this question.
The measures initiated during the last year to develop agriculture, coupled with a good monsoon, have definitely improved the growth in the agriculture sector. But it is miles to go to reach the 2013-14 level of 4.2%.
Thus, the biggest challenge is to ensure quality jobs with social security to workers. Today's youngsters are more informed, more impulsive, and more concerned, and, unlike their predecessors, can hardly afford to bear the brunt of unemployment and marginalisation.
The real challenge is to boost the employment opportunities both within and outside agriculture.
The global protectionist policies by the proponents of globalisation and free trade are likely to impact export industries. Boosting up the domestic economy through the creation of effective demand through more redistributive policies of income generation and social security are prerequisite.
This centrality of employment in economic development must continue in the coming budgets.
Edited by Shreyas Sharma