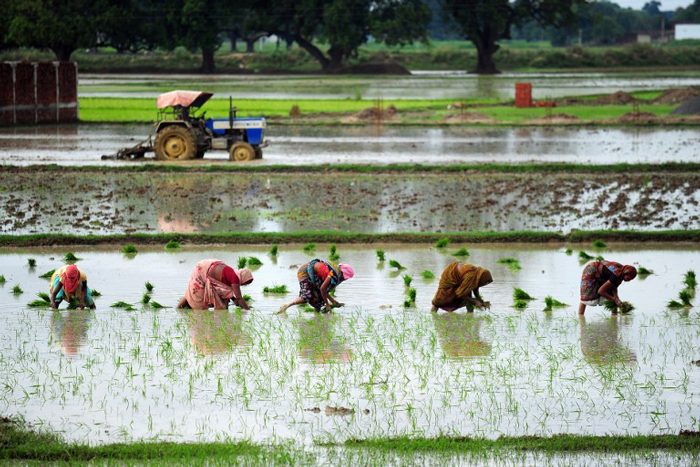 Arun Jaitley's latest budget, it turns out, isn't as social-minded as it has been made out.
The Centre for Budget Governance Accountability, a think tank that analyses public finances, has parsed Budget 2016-17 and separated truth from hype.
The CBGA's report, titled Connecting the Dots. An Analysis of the Union Budget 2016-17 and released at Delhi's India Islamic Cultural Centre on 1 March, makes for rather depressing reading.
The crux of this report: the government can address "social and regional disparities in development" by "investing more in areas and for sections of population that are lagging behind". "And social sector schemes are perhaps the only channel available" to do so.
"In view of this, the allocations in Budget 2016-17 for most social sector schemes, which are either slightly higher or a little less than the 2015-16 figures, fall short of expectations."
Here are key takeaways from the report:
01
Total expenditure rises but not as a share of the GDP
The total planned and non-planned expenditure has been increased by Rs 1,92,669 crore. As for individual sectors, the expenditure on education has been hiked by Rs 1,740 crore, agriculture and allied services by Rs 1,282 crore, pensions by Rs 27,637 crore. Grants to state governments have been increased by Rs 10,299 crore.
However, after accounting for inflation, the overall expenditure as a share of the GDP has actually declined consistently over the 12th Five Year Plan period (2012-17).
Also read: #Budget2016: Jaitley has set lofty targets, but can he achieve them?
02
Overall social sector allocation sees only a marginal rise
Comparing this year's BE of 17 social sector ministries with last year's RE shows that cumulatively, the allocation increased only marginally from Rs 4,13,419 crore to Rs 4,74,847 crore.
Individually, some ministries saw significant increases in allocations if you compare last year's RE with this year's BE.
The environment ministry saw a massive jump from Rs 743 crore to Rs 5,892 crore.

The health and family welfare ministry saw a rise from Rs 67,268 crore to Rs 72,039 crore.

The HRD ministry got Rs 67,268 crore as against Rs 72,039 crore last year.

The urban development ministry saw a leap from Rs 17,978 crore to Rs 24,130 crore.

The rural development ministry witnessed an increase from Rs 77,548 crore to Rs 85,969 crore.
But several key ministries hardly saw any increase over last year's allocations.
The women and child development ministry got Rs 17,352 crore as against Rs 17,075 crore.

The consumer affairs, food and public distribution ministry got Rs 1,41,392 crore compared to Rs 1,40,871 crore last year.

The social justice and empowerment ministry received Rs 6,551 crore as against Rs 5,960 crore.
Where in these figures is the much talked-about focus on the social sector?
Also read: Not a suit boot ki sarkar: Govt silences critics with pro-farmer #Budget2016
03
Social sector allocation to states declines
The social sector allocation to states has been increased over 2015-16 Budget Estimates (BE). However, while this allocation was supposed to rise over the fiscal, it actually shows a decline in the Revised Estimates (RE) for 2015-16. This is a concern, as most other RE figures for 2015-16 in this year's budget show a rise, including total expenditure.
However, a disclaimer has been added to the receipts budget explaining that the figure for the states' shares in central taxes is net after debiting Rs 8,464 crore on account of excess payment in 2014-15.
Moreover, central assistance to State Plans as well as the overall resources given to the states have seen a very marginal increase - from Rs 2,16,108 crore and Rs 8,21,520, respectively, in last year's RE to Rs 2,41,900 crore and Rs 9,21,201 crore, respectively.
Also read: OROP, 7th pay panel: why defence got short shrift in #Budget2016
04
'Focus on agriculture' is really a statistical illusion
Agriculture, cooperatives and farmers' welfare saw a jump in allocation from Rs 22,951 crore to Rs 44,469 crore.
According to a report in the newspaper Mint, this "whopping" 94% hike really amounts to just a modest 27%. That's because the Rs 15,000-crore increase in interest subsidy in short-term credit for the finance commission was included in this budget. So far, interest subvention has been part of the finance ministry's budget allocation. This reshuffling of existing money and little new allocation, critics say, is the actual story behind the increased farm expenditure.
According to CBGA's analysis, the rate of growth of the agricultural sector, which is the mainstay of livelihood for a majority of the country's population, declined sharply from 4.2% in 2013-14 to -0.2% in 2014-15.
Two successive droughts since 2013-14 have only exacerbated the agrarian crisis. The combination of falling commodity prices, declining output and increasing input costs has meant that livelihoods of crores of agricultural workers and cultivators are in peril.
As a result, "the much needed source of demand emanating from the rural market has been very weak," the report states.
Although this government has promised "income security" to farmers - saying it would be doubled in the next five years - it hasn't announced any significant measures that would ensure this, other than PMFBY, which is a scheme to cover crop loss, and a dedicated Long Term Irrigation Fund.
According to the report, the benefit of interest subvention only accrues to farmers who have access to formal sources of credit. As tenant farmers and sharecroppers are excluded from bank loans, interest subvention won't help them.
Still, the allocation of Rs 15,000 crore in 2016-17 BE as interest subvention is only a marginal increase over last year's allocation of Rs 13,000 crore.
"The present level of budget allocation for the sector might only be able to address the symptoms, not the root causes of the distress in agriculture sector," the report warns.
Also read: #Budget2016 gives a sense of deja vu
05
Allocation for MGNREGS less than in 2010-11
The government has claimed that the allocation for MGNREGS this year is the highest ever in terms of actual expenditure. However, in 2010-11, it got Rs 40,100 crore, and the level of fund utilisation too was higher.
This year, the allocation for the scheme should have been significantly higher to account for inflation over the years. But the outlay of Rs 38,500 crore, the report points out, is much less in real terms compared tothe allocation in 2010-11.
06
The budget for education is simply not enough
In his budget speech, Jaitley emphasised the "quality of education as the next big step forward".
To improve quality, basic school infrastructure, teacher training and recruitment, community mobilisation are urgently required. However, the overall budget for the school education department has been hiked only by 3.2%.
In spite of the shortage of trained and qualified schoolteachers, the allocation for their training is Rs 510 crore, less than last year's Rs 558 crore.
The Sarva Shiksha Abhiyan, the vehicle for implementing the Right To Education, has got Rs 22,500 crore in 2016-17 BE. This is a just a 2.2% increase over the 2015-16 RE.
As per the new funding pattern, the central budget for the SSA constitutes 60% of the scheme's total budget. The states, except those in the Northeast and the three Himalayan states, will provide the remaining 40%.
"Given that only 8% schools comply with all the infrastructure norms mentioned under RTE Act - 8.3% schools have a single teacher - it seems that the overall pool of resources provided by the union government is inadequate to fulfill the RTE norm in all elementary schools," the report points out.
Also read: #Budget2016: why the focus on job creation was long overdue
07
Swachh Bharat at the cost of drinking water?
By allocating Rs 9,000 crore for Swachh Bharat Abhiyan, the government has clearly put sanitation at the top of its priority list. But the concern raised by the CBGA is whether this has come at the cost of allocation for drinking water supply.
The National Rural Drinking Water Programme has seen a gradual decline in allocation since 2012-13, when it was Rs 10,490 crore. Now it's just Rs 5,000 crore. The issue of water quality and sustainability persists, especially in rural areas. With many states in the country reeling from a drought, the allocation for rural water supply could have done with higher allocations.
Also read: Explained: Arun Jaitley's '9 pillars' of #Budget2016
08
No provision for better nutrition
Almost 30% of Indian children under five fail to achieve the height of a normal well-nourished child.
The data of the fourth National Family Health Survey released recently shows that almost every second child under five in Bihar and one in five children in Goa is stunted and more than 42% children in Madhya Pradesh are underweight. Likewise, when we compare stunting among children under five from SC/ST families with those from other groups, they come out as the most undernourished in the country.
Yet, the allocation for nutrition-specific schemes like the ICDS and Midday Meal has been cut from Rs 25,661.60 crore last year to Rs 25,572.90 crore.
In his budget speech, Jaitley said that "a national programme in mission mode is urgently required to halt the deteriorating malnutrition situation in India as present interventions are not adequate. A comprehensive strategy, including detailed methodology, costing, timelines and monitorable targets will be put in place within six months".
The CBGA report, however, points out that such a programme "was eagerly awaited" but now, two years later, "there is no emphasis" on it.
Also read: You think this Budget was for farmers? Think again