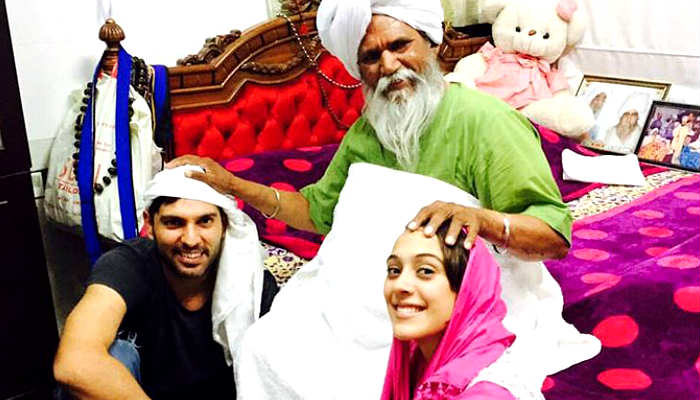 What does it take for a person to accept somebody as his/ her life partner? For cricketer Yuvraj Singh, his partner has to be his friend for life and of course his mummy's dearest. Singh has finally made his engagement with actress Hazel Keech official as he took to Twitter to announce his love for the soon-to-be-bride.
He posted an adorable picture with Keech and captioned it as:
"Yes I am engaged cause i found a friend for life in @hazelkeech as mom says a reflection of her" [sic]
Followed by this, Hazel too took to Instagram and confirmed the good news by saying:
"Yes, its true, im getting married to @groovi12 Im so thankful to have found such an amazing person #shazam" [sic]
While the couple seems happy, Yuvraj's parents too just can't hide their glee. While talking to the media, his father Yograj Singh said:
"I was introduced to her by Yuvraj and she is a very nice girl. I am confident that marrying her will change his fortunes and he will return to the national squad. He definitely has it in him to represent India."
His mother, Shabnam on the other hand is happy not because he is seeing some 'good fortune' being come for his son, but because she likes to see her son happy. She said:
"Finally, he found the right girl. This was the time when I felt he required a partner. I wanted him to get married and he had told me that he wouldn't marry till he doesn't find the right girl. I was in England last month to meet Hazel's parents.

Her parents are really grounded and their humility has really floored me. I am happy, my son has finally found a good partner."
And if you haven't still checked out their engagement photos, scroll down to see: