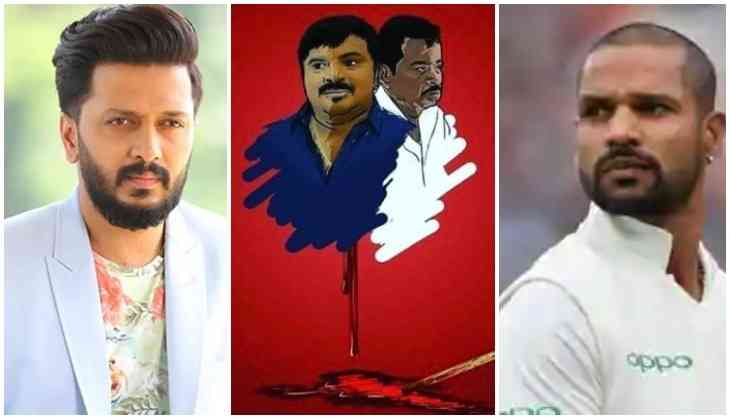 celebs demand justice for Jayaraj and Fenix
A shocking and horrific case has come to light from Tamil Nadu's Tuticorin where a father-son duo was brutally assaulted in police custody leading to their death. As per reports, on 19th June, Jayaraj (59) and his son Fenix (31) were allegedly arrested for breaking lockdown rules by keeping their mobile phone shop open beyond the permitted time. Highlighting the incident a social media user shared a detailed video of what happened to Jayaraj and Fenix during their time in police custody.
Soon the video went viral and sparked massive outrage in Tamil Nadu and on social media. Many celebs from South Industry, Bollywood and Cricket such as Taapsee Pannu, Riteish Deshmukh, Shikhar Dhawan, Khushbu Sundar, Hansika Motwani, among others took to their social media handle to demand justice for the Jayaraj and Fenix.
Also Read: Sushant Singh Rajput's father breaks silence on son's death; reveals about Ankita Lokhande, Kriti Sanon
Here have a look at a series of tweets:
I am so so shocked and pained and to a large extent just unsure, how we have become such a horrible race.. This incident is so brutal, it actually breaks my heart.. Just not done💔💔 #JusticeforJayarajAndFenix https://t.co/YoMxSo8jW5

— Genelia Deshmukh (@geneliad) June 26, 2020
This is tragic & absolute National Shame. It sends shivers down my spine even reading about it. We all must stand together against this barbaric brutality. #JusticeForJeyarajAndFenix https://t.co/Srn5GFaG7p

— Riteish Deshmukh (@Riteishd) June 26, 2020
Horrified to hear about the brutality inflicted upon Jeyaraj & Fenix in Tamil Nadu. We must raise our voice and make sure justice is given to the family. 🙏 #JusticeForJeyarajAndFenix

— Shikhar Dhawan (@SDhawan25) June 26, 2020
This might just be one case out of many but it takes only one case to begin the snowball effect. #JusticeforJayarajAndFenix
It could've been anyone we know. Details are scary and gut wrenching.

— taapsee pannu (@taapsee) June 26, 2020
What happened to a father and son at the hands of those policemen is wrong at every human level and every single person irrespective of place of origin or political belief needs to stand up for them. It is plain horrific and wrong. DEMAND action. #JusticeforJayarajAndFenix

— Vir Das (@thevirdas) June 26, 2020
Will we and can we see law taking its course and punishing the guilty without any further delay in #Jeyaraj and #Fenix case? The culprits cannot and should not get away. A family has lost their most loved ones. Justice delayed is justice denied. #JusticeForJeyarajAndFenix

— KhushbuSundar ❤️ (@khushsundar) June 26, 2020
Terrified to hear the brutality inflicted upon Jeyaraj and Fenix !Wat an insult these maniacs hv caused 2 our police department &country
The culprits cannot &should not get https://t.co/7YdGX9hyvG front of the law every1 is the same justice must b done #JusticeForJeyarajAndFenix

— Hansika (@ihansika) June 26, 2020
Totally inhuman💔 #JusticeForJeyarajAndFenix
Brutality faced by jeyaraj and Fenix lower middle class who lives in saathaankulam bec of police😢No one should have this much power over other lives!now it's time to show our outrage against this culprits😢they need to be punished😢 pic.twitter.com/oXmYK9o8Ad

— Athulyaa Ravi (@AthulyaOfficial) June 26, 2020
பொலிஸ் மிருகத்தனத்தை நிறுத்த வேண்டும்
They aren't above the Law😡
This wasn't interrogation.. this was Murder😡
If the law is above all... this is the time it shows it's Power @CMOTamilNadu #JusticeForJeyarajAndFenix https://t.co/VDw9vLOru6

— Shanthnu 🌟 ஷாந்தனு Buddy (@imKBRshanthnu) June 26, 2020
Meanwhile, family members of Jayaraj and Fenix have refused to take their bodies as they are demanding murder charges against the policemen involved. As per NDTV Jayaraj's daughter said, "It's a twin murder. There has been inexplicable torture, which as a woman I can't even describe. We will not collect the bodies until murder cases are filed against them (police)."
Also Read: TikTok star death: Not so real life of social media influencer; likes, views, comments bog down the person