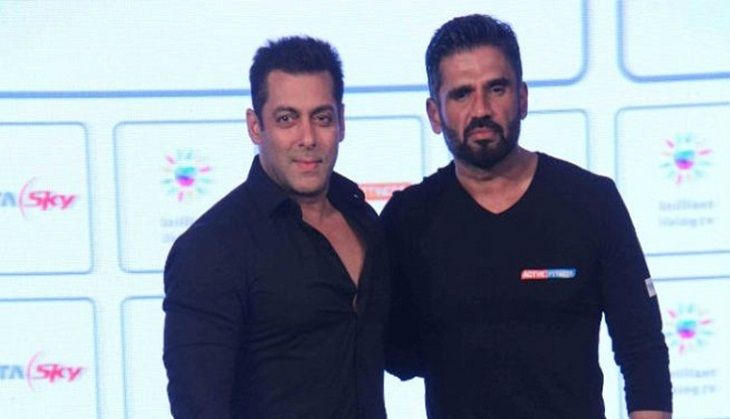 Salman Khan's appointment as the Goodwill Ambassador of the Indian Contingent at Rio Olympics 2016 has become the subject of intense debate. While a number of sport personalities like Abhinav Bindra, Vijendra Singh and Mary Kom, to name a few, seemed content with the decision, others like Yogeshwar Dutt and Milkha Singh had an entirely different take. 
The actor's father, acclaimed scriptwriter Salim Khan, took to Twitter to defend his son's appointment. "Salman may not have competed but is an A list swimmer, cyclist and weight lifter. Sportsmen are performing because of sports lovers like us," he said.
A number of Bollywood celebrities have backed Salman's appointment. Actor Suniel Shetty has said that he thinks Salman's popularity makes him the right choice for Goodwill Ambassador. 
Also Read: Salman Khan is an A-level swimmer, cyclist: Salim Khan hits back at Milkha Singh
"One can have anybody who is popular. It's like saying only cricketers should own cricket teams. As long as it benefits the sports it doesn't matter. Stars make a difference, and you can't deny that. Gujarat used Amitji (Amitabh Bachchan) as their brand ambassador even though he's not a Gujarati," he said. 
The actor also spoke about how IPL and ISL were interlinked with Bollywood. "The entrance of Shah Rukh and Preity Zinta in IPL has made it the biggest cricket league in the world. Ranbir Kapoor in ISL and Abhishek Bachchan in Kabaddi have inspired millions of young boys to join the sports," he said. 
"When two things can combine and give you crazy prominence in the social media why not? Salman has a humongous fan following and can inspire so many. Aamir, Shah Rukh, Amitji... They are so hugely popular too and can become ambassadors too. When such famous figures become brand ambassadors they can pull up the sport though their popularity, wake up the rest of India and educate them more," he said.
The actor also said that he thinks Farhan Akhtar helped make the Milkha Singh biopic a legendary film. 
"Why bash a Bollywood star? Let's not look at things negatively. It was Farhan Akhtar who helped the Milkha biopic (Bhaag Milkha Bhaag based on the life of Milkha Singh) become a legendary film. Bollywood is a medium like sports and if you can get oil and water to mix it would be an explosive combo," he said. 
Bollywood actor Paresh Rawal also shared his opinion on the issue. "Amitabh Bachchan was roped in for the Polio campaign. He did not come on board because he is a doctor or owns a hospital but because he is a popular icon of India. When such people come on board, a lot of awareness is generated". 
He spoke about how using such big names can help promote sports in India. "For the betterment of the sport, the sportsperson should not question the decision. Unfortunately people in India are aware about just one or two sports. A sport like Kabbadi has got so much recognition because Bollywood stars have taken keen interest in promoting it. Salman Khan is a hugely popular face and people demanding for a sportsperson to come on board need to realise that even Body Building is a sport. Salman is a great swimmer as well and I don't understand what is wrong to get someone on board just to generate awareness," he said.
Wrestler Yogeshwar Dutt alleged that Salman Khan came on board as Goodwill Ambassador to promote his upcoming film, Sultan. However Paresh Rawal believes that Salman is too big a star to need promotion.
Also Read: Salman Khan reveals why he agreed to take up YRF's Sultan
"I think Salman Khan is too big a star to need publicity through sport. Salman, SRK, Aamir will not stoop so low. It is funny that people have interpreted the matter in such a way. When people don't know anything about Olympics in India, how will Salman get publicity through that? Cricket is a religion in India, but I believe with Salman Khan coming on board there will be a lot of interest in different Olympic sports," he said.