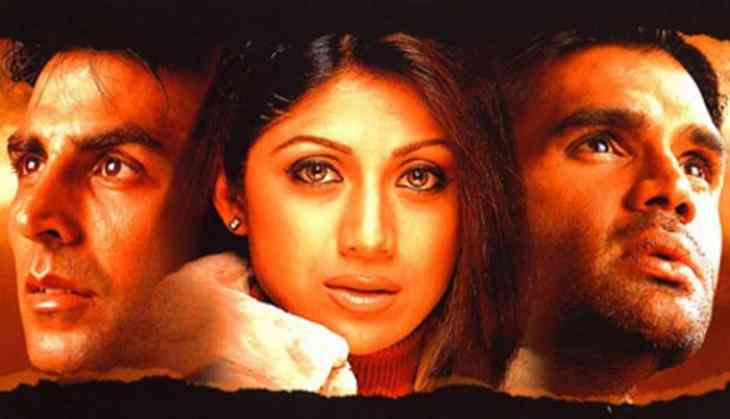 Suniel Shetty, Akshay Kumar and Shilpa Shetty collaborated for one film Dhadkan that released 19 years ago in 2000. The film showed a love triangle between lead actors played the roles of Dev, Ram, and Anjali respectively. Recently, lead couple of the film, Suniel Shetty and Shilpa Shetty came together at the Dance show, Super Dancer and revealed some interesting facts about the film.
In the show, Shilpa Shetty revealed that Suniel Shetty who played the role of Dev was actually supposed to die in the climax of the film. But the makers changed the climax at the last moment to make a happy ending. So they decided to not to die the character of Dev and move forwards him with Mahima Chaudhary's character.
Shilpa Shetty revealed that in the climax when Anjali tells Dev that she is going to be the mother of Ram's child then Dev gets a shock dies on the sofa. But later the makers decided to have a happy ending in the film and that made the character Dev a villain. Even Suniel Shetty said that he was shocked when he got Filmfare Award for Negative performance because he thought he played the positive. He said actually it was his love story with Anjali.
In the same show, Shilpa Shetty also revealed that the film took around 5 years in the making. She revealed that earlier the director approached Suniel Shetty for the role of Dev but as he was busy shooting another film so the director cast another actor for Dev's role. However, after shooting one schedule in Hyderabad with another actor, the director realized that the role is actually only written for Suniel Shetty. Later Shetty joined the film.
Also Read - Good News! Kiara Advani joins Akshay Kumar for Kanchana Hindi remake 'Laxmi'