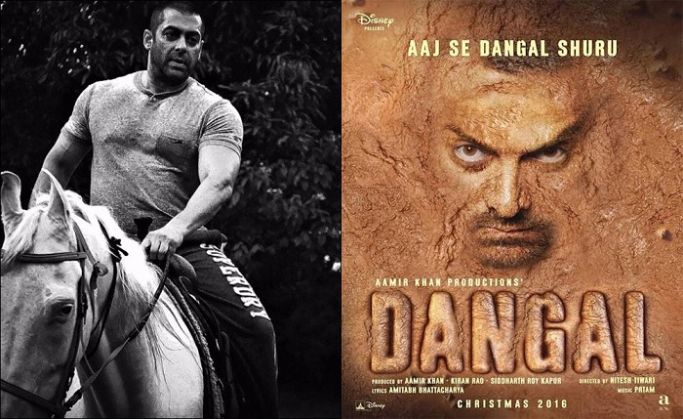 Year 2016 is to play host to a whole range of Bollywood films. What is even more refreshing is that superstars like Salman Khan, Aamir Khan, Shah Rukh Khan and Akshay Kumar are also taking a break from conventional action entertainers, what with the likes of Airlift already out.
The most anticipated big budget films Bollywood has to offer this year are Sultan, Dangal, Raees, Fan and Housefull 3. Trade analysts are expecting these 5 films to set the cash registers ringing at the Box-Office. Film critic and analyst, Rajiv Vijayakar, who has also been a jury member at 62 National Film Awards, speaks about his expectations from the big films in 2016.
Also Read: Salman Khan just proved why he is the Sultan of the Box-Office
Salman Khan and Sultan set to dominate 2016:
I don't think anything will be able to cross the collections of Sultan in 2016 because it is an Eid release, it is a Yash Raj Film and moreover, it is a Salman Khan film. I feel this makes for a lethal combination and will take the hype around the film to a different level. I am expecting it to be a good film because Ali Abbas Zafar likes to shoot the film with a lot of style. Over and above that, Salman Khan now seems to prefer films which have stories.
Aamir Khan's intolerance controversy will not affect Dangal at the Box-Office:
People are saying that Aamir Khan might face protest during the release of Dangal due to his remarks on intolerance, but I think at the end of day, public memory is short. Dangal will rank pretty high in 2016. Aamir Khan looks into films in a very strategic manner, from the scripting to the marketing. I don't think Aamir Khan will go wrong with Dangal. Despite this being a Biopic, it has one of the most lethal combination of Pritam and Amitabh Bhattacharya in the music front.
Raees and Sultan might not clash this Eid:
I don't think Raees and Sultan will clash, but if they clash, out of 100, I would give 70 percent chance to Sultan over Raees. With Shah Rukh Khan, I would expect Fan to do better than Raees for the simple reason that, Fan looks like a little more entertaining story. Maneesh Sharma has a typical style of making movies and I think Fan will have some entertaining novelty to offer.
Female centric films like Akira, Jai Gangaajal and Neerja might spring in a pleasant surprise:
Two female centric films which I have a lot of hopes from are Jai Gangaajal and Akira. Priyanka is on a high right now and whatever she does succeeds. Many people don't know the fact that, Jai Gangaajal is actually designed as a kind of musical with 12 songs. I feel Akira will be a big film because A R Murugadoss has not failed till date and he is actually converted a male script into a female one with Sonakshi in lead. Neerja will run on its merits.
Also Read: Dhoom franchise has matured, Dishoom will be the new Dhoom, promises John Abraham
Dark horses of 2016:
There will be many dark horses in 2016. There will always be surprises and shocks. Among the other films, I have a lot of hopes from Dishoom. There was a spark I saw in Desi Boyz directed by Rohit Dhawan. Despite the film being just about okay, and doing average business, I am hopeful about Dishoom. R Balki can also spring a surprise with Ki and Ka. All his films have unique titles, but this time he also has a unique combination of Arjun Kapoor and Kareena Kapoor. R Balki is very good when it comes to light hearted comedies. M S Dhoni, Force 2, Rock On 2 and Rocky Handsome might surprise if they have good content.