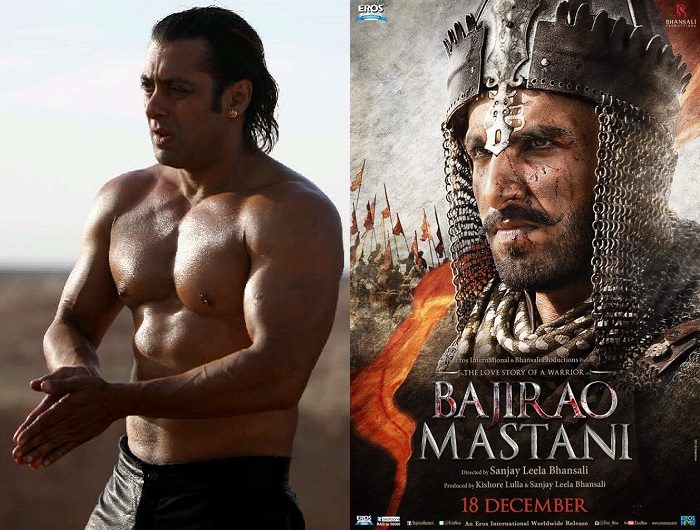 As Sanjay Leela Bhansali and his team gear up for the release of his magnum opus, Bajirao Mastani on 18 December, few know that the director initially had plans to make the film in the early 2000's.
Oh, and Bhansali wanted Salman Khan and Aishwarya Rai to play Bajirao and Mastani, respectively. We can picture that. Can't you?
Also Read: Following Aishwarya Rai Bachchan, Salman Khan too opens up on Bajirao Mastani
However, things did not work out after the couple's highly-publicised breakup.
Bhansali wanted to shoot the film after his successful Hum Dil De Chuke Sanam. However, he decided to shelve the project and move to his next offering - Devdas starring Shah Rukh Khan, Aishwarya Rai and Madhuri Dixit.
After Devdas, Bhansali decided to revive the project once again. This time with Salman Khan as Bajirao, Kareena Kapoor as Mastani and Rani Mukherji as Kashibai.
Also Read: Priyanka Chopra calls Bajirao Mastani India's Game of Thrones! Really...
Salman Khan and Kareena Kapoor also held photo-shoots in their Bajirao and Mastani looks. However, the film failed to take off as Salman and Kareena went on to sign Kyun Ki. Once again, Bhansali canned the film as he wanted it to be the first film to show off the pairing of Salman Khan and Kareena Kapoor.
After the success of Ram-Leela, Bhansali tried once again to make the film. He approached Salman Khan but the actor did not have dates to spare. The director then decided to pass up on his first choice, Salman Khan and went on to cast Ranveer Singh and Deepika Padukone as Bajirao and Mastani, respectively.
Also Read: Ranveer, Deepika and Priyanka's Bajirao Mastani trailer has surprised us and how
As the film finally hits the big screen, releases, here is wishing the director all the very best. And hats off to his perseverance.