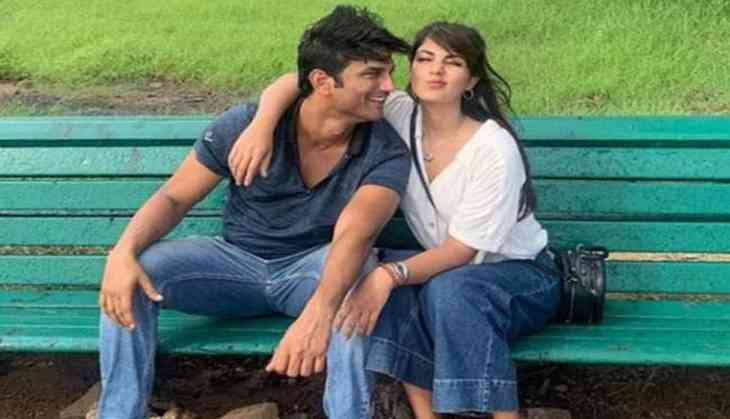 Sushant Singh Rajput's former domestic help Ashok earlier told a news channel about late actor's trip to Europe with Rhea Chakraborty. He also said that Sushant's health got deteriorated after he returned from the trip. Now, the details about the trip of Sushant and Rhea have been revealed.
The actress spilled the beans about what happened on the trip when they were in Florence, Italy. According to a report in India Today, Rhea told officials that when they were in Florence in Italy in October 2019, she saw Sushant being affected due to mental illness.
Rhea Chakraborty further added that they were staying at a 600-year-old heritage hotel in Italy during their Europe trip in October 2019. She revealed that the old heritage hotel had huge rooms and also some old paintings on the walls in the room. There was one such painting that affected Sushant. It was the painting of Saturn devouring its child. Rhea alleged that she was in another room with her brother Showik Chakraborty, but when she returned, she found Sushant was chanting mantras using a Rudraksha and also looked perplexed.
Also Read: Sushant Singh Rajput's family makes another allegation against Rhea Chakraborty
When Rhea tried to ask him what happened, he said that he could see the characters in the paintings and was unable to describe it clearly. Rhea further added that Sushant had been hallucinating about the painting and somehow she consoled him by saying that those were just hallucinations.
Even Rhea and her brother Showik slept with Sushant that night, she said.
Also Read: Sushant Singh Rajput's cook reveals what actor did before committing suicide
Later, Rhea and Sushant, along with Showik left for a detox centre in Austria, but Sushant was not feeling well that's why they return India. The couple was supposed to return to India on November 2, but due to the Sushant health condition, the returned on October 28.
As per Rhea, Sushant was devoid of energy after returning from the trip and would remain silent for long hours, India Today report said.
After returning back to Mumbai, Sushant's health got deteriorated. Rhea told that sometimes he started shouting and screaming while sometimes, he would start crying. However, Sushant was taking medical assistance for his health, which according to Susan Walker, his psychotherapist, was treating him for his bipolar disorder. While Rhea was helping and supporting Sushant during his tough phase. On June 8, Sushant told Rhea that she should go back to her home and that it would help her recuperate.
Even Rhea had also taken the appointment of a psychiatrist for herself as she was also slipped to depression.
On June 10, Sushant also messaged Rhea's brother Showik to know about Rhea's well-being.
Sushant Singh Rajput allegedly died by suicide on June 14 at his residence in Mumbai.
Also Read: Sushant Singh Rajput death: Ambulance driver tells details about Sushant's corpse