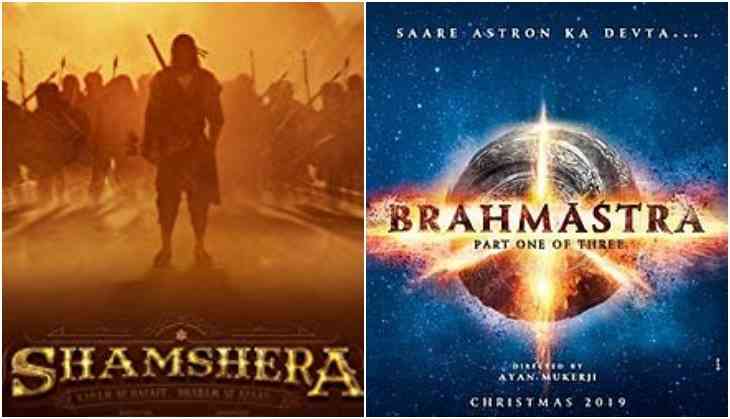 Bollywood actor Ranbir Kapoor has gone through many highs and lows in his career and there was a time when he had to see back to back flops. In 2013, he came with his career's biggest film Yeh Jawani Hai Deewani but after that till 2016, he continuously gave back to back flops. In 2016, he was seen in Karan Johar's Ae Dil Hai Mushkil and this film finally broke his failure record.
Then in 2017, once again he had to seen failure in most awaited film Jagga Jasoos, however, later in 2018, Rajkumar Hirani's biopic film Sanju helped Ranbir Kapoor to bounce back. Since Sanju went hit and Ranbir received the best actor award from everywhere the fans are keen to watch when they will go to see Ranbir Kapoor next. Earlier, Ranbir Kapoor and Alia Bhatt starrer Brahamstra was supposed to release on Christmas 2019 but later the makers reschedule the film for 2020.
This has really turned trouble for Ranbir Kapoor as Brahmastra has actually affected the release dates of his next film Shamshera. It was known that Ranbir Kapoor, Vaani Kapoor, and Sanjay Dutt starrer Shamshera is going to release in July 2020 but it looks like that now this film will get postponed for 2021.
Actually, since Ayan Mukerji has once again started shooting for Brahmastra so Ranbir and Alia are totally busy for Brahmastra. Ranbir and Alia are already late to shoot Brahmastra as because Ranbir had to take rest because of his father's health. Now, Ranbir has given all his dates to Brahmastra but the problem is that Ranbir was supposed to start the shooting of Shamshera after completing Brahmastra but it won't happen.
According to the sources, Karan Johar who produces Brahmastra went to meet Aditya Chopra who produces Shamshera to allow Ranbir to shoot for Brahmastra. Once close source told, "Ranbir's dates for Shamshera were supposed to start after the completion of Brahmastra. But it seems Ayan requires more of Ranbir's dates. Karan requested Adi for more time and Adi complied. Shamshera will now be completed in 2021."
So with that, now Ranbir will only be seen in Brahamstra and that too in Christmas 2020. This really makes trouble for Ranbir as he has been away from the silver screen for a long time.
Also Read - Salman Khan wishes his nephew Yohan on birthday in the most cutest 'Slow Motion' video