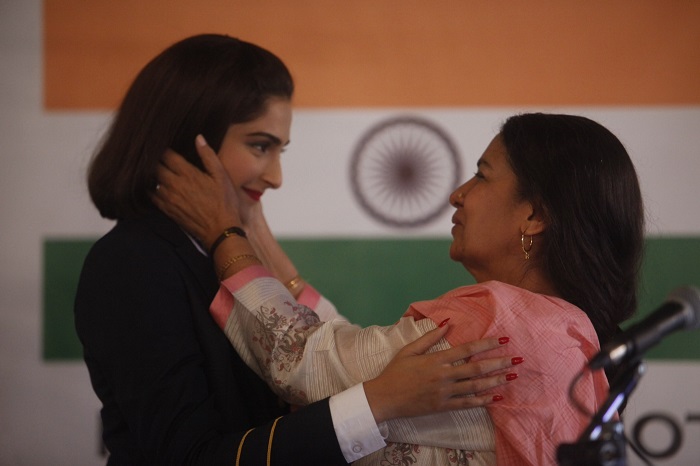 Ram Madhvani's second directorial venture, Neerja, is creating a lot of buzz for all the right reasons. While the theatrical trailer and songs have impressed the audience and critics alike, the film has also grabbed eyeballs due to the presence of Shabana Azmi in the cast.
Azmi essays the character of Neerja Bhanot's mother, Rama Bhanot, in the film. The veteran actress, speaking about the circle of life, said,
"Just a year before Ram offered me the script, I was invited by the Bhanot family to present an award and I had spent some time with the family. This film came my way out of the blue so it felt great as there was a certain amount of connection I could feel."
Also Read: Neerja: Sonam Kapoor and team design promotional strategy that does justice to the film's sensitive subject
The veteran actor, who was last seen in Jazbaa, also revealed that she feels responsible to portray such an important character in the Neerja Bhanot biopic and hopes the family of the Pan Am Hero is not disappointed.
"I was struck by Rama Bhanot's warmth and I felt very responsible to the family as when somebody has put their trust in you to share their lives, then it becomes your responsibility to do so with a lot of honesty. A film cannot be replica of real life and since you are telling a story, you need to highlight certain things and let certain things go. The family should not feel betrayed by the story but they were very happy with the way the film has shaped up and the most difficult thing for me to do was to get the spirit of Neerja's mother right and hopefully I have got it right in the film."
Also Read: 7 facts you need to know about Pan Am hero Neerja Bhanot, ahead of the film
Speaking about Sonam Kapoor's performance in the film, Shabana Azmi who has known Sonam since long time, said,
"I think this is Sonam's most sincere performance till date. She has worked really hard for this character and has performed with a lot of conviction. I never knew Neerja personally, but from the limited information I have about her, I think, Sonam has done a very good job."
Neerja releases on 19 February 2016.