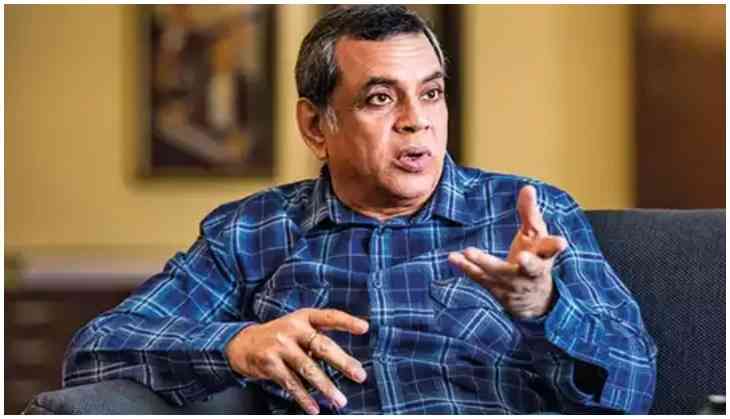 Paresh Rawal tweets 'ban TikTok
TikTok is going through an existential crisis since Youtuber Carry Minati made a video roasting all the TikTokers especially Amir Siddiqui. Following this Amir's brother, Faizal Siddiqui has also fallen in a pit of controversy as TikTok has banned his account for promoting heinous crime. Well, all thanks to the angry Carry Minati aka Ajey Nagar's fans who fished out Faizal's old video wherein he can be seen throwing water can be imagined as (acid or alcohol) on girl after she cheated him.
Ever since then netizens are busy urging people to uninstall TikTok App and also report it to TikTok so that the rating of the App go down. Amid all this Bollywood actor Paresh Rawal has shown his support in favour of banning the App in India. Taking to his Twitter handle he wrote, "Ban TikTok," however as soon as he dropped this tweet, Twitterati went berserk and started showing their support.
Also Read: Nawazuddin Siddiqui's wife Aaliya opens up on divorce; says 'Meri self-respect khatam ho chuki thi'
BAN TIK TOK .

— Paresh Rawal (@SirPareshRawal) May 19, 2020
But some netizens disagreed on his tweet which escalated the war of words between two communities.
Here have a look at tweets:
बहुत बहुत शुक्रिया परेश सर #BanTikTokInIndia मैं समर्थन के लिए 🙏
इसी तरह और थोड़ा सहयोग मिलता रहा ना तो एक दो घंटा के अंदर टिक टॉक की रेटिंग तो ऐसे ही गिर ही रही है इस ऐप को भारत से उखाड़ फेंकना है

— शुभम पाण्डेय🇮🇳 (@Shubhampandeyj) May 19, 2020
#iPhone से ट्वीट करके स्वदेशी की मांग कर रहे हो थोड़ी बहुत शर्म बांकी है या नही ?

— Monika Singh (@MonikaSingh__) May 19, 2020
This video is enough to justify why tiktok should be banned 2nd vedio pramote to rape #BanTikToklnlndia @ABPNews @ZeeNews @aajtak @indiatvnews @narendramodi @Republic_Bharat @News18India @TimesNow @chitraaum @TajinderBagga pic.twitter.com/ukIopxUfGQ

— Abhay singh rajput (@Abhay_singh_2) May 19, 2020
Haaa or this message is enough to clarify ki tm Hinduism nahi Hindutva k manne wale ho
Agar kisi dusre pr ungli utha rhe ho to kam se kam isme to religion mat lao pr kya kr sakte hai hamare desh ki adat hogyi hai har cheez muslims pr daal do
Hats off bro🙂

— Shehreyaar Sajid (@iamsrkreyaar) May 19, 2020
Ban tik tok and save teenagers and youth of India🇮🇳 #BanTikTokInIndia #BanTikTokApp pic.twitter.com/HPYfyDMyNG

— Shivangi Sisodiya (@Sidhear63034351) May 19, 2020
#BanTikTokInIndia
Guys follow these steps ..now tiktok rating is 2.0, so don't Stop untill the tiktok rating is 0.0. and send the pic. To your friends and relatives..
It's china app.. spreading hate and abuse in society, like corona tweet this as much as you can .. pic.twitter.com/Q4B80cXKC9

— R.K. (@Ece12Kumar) May 19, 2020
Memer's be like : ❤️ pic.twitter.com/QT5Wv1mM11

— SARCASTIC BOY 😈 (@candidkislay) May 19, 2020
Meanwhile, on Twitter #BanTikTok was trending on Twitter as netizens are not happy with the content of the App. Not only Faizal's but there are other TikTokers who have made videos promoting rape and other heinous crimes. Well, this is not the first time TikTok has fallen for controversy, the App has always hit headlines for its bizarre content. Many have also committed suicide or died while making the bizarre video.
Also Read: Twitterati trend #BanTikTok after Faizal Siddiqui's acid attack video went viral; roast TikTokers with hilarious memes