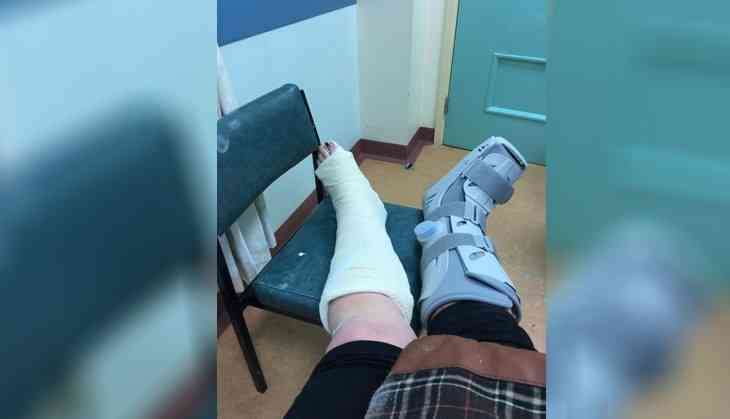 A TikTok dance challenge has become trouble for a mum who tried to attempt it with her girlfriend.
According to the reports in metro.co.uk, Sapphire Charlesworth, from Chester-le-Street, Country Durham was trying the popular dance challenge i.e. Oh Na Na Na with her girlfriend Naadjele Lartey on Wednesday, unfortunately, their challenge went wrong as they planned.
The 27-year-old mum of two children was rushed to the hospital after falling down while practicing the dance. The doctors told her that both of her ankles got damaged, Chronicle Live reports said.
People who love watching or making videos on TikTok must be familiar with the dance challenge.
To attempt 'Oh Na Na Na' challenge, two people are required and then they will have to slowly begin the dance challenge by tapping their feet together to the tune of Slim Burna's song.
See how to perform the challenge:
However, people have given different steps to perform the challenge. While many follow the same steps which have become popular among everyone.
Sapphire said: "We were just practicing, and as I went to turn I slipped and heard 'crack, crack' and then I was in a heap on the floor.
"It hurt so so bad. I think my partner thought I was exaggerating, she had to pick me up and we were trying to wait to see if the pain wore off but then we had to phone an ambulance."
After the injury, Sapphire was admitted to the University Hospital of North Durham, and after an x-ray, doctors told that she needs surgery as her ankles got broke.
She had a fracture in her right ankle and ligaments on her right foot.
"To anyone thinking of trying it, I'd say approach with caution, and it's not as easy as it looks," Sapphire said.
Meanwhile, Sapphire has a cast on one foot and on another, she is wearing a moon boot. Her partner Naadjele is now taking care of her two children.
She also thanked NHS for treating her during the coronavirus pandemic outbreak across the country.
Watch more videos:
Be cautious before trying such kind of challenge at home...
Also Read: Woman mistakenly declared dead by doctor, wakes up at her funeral