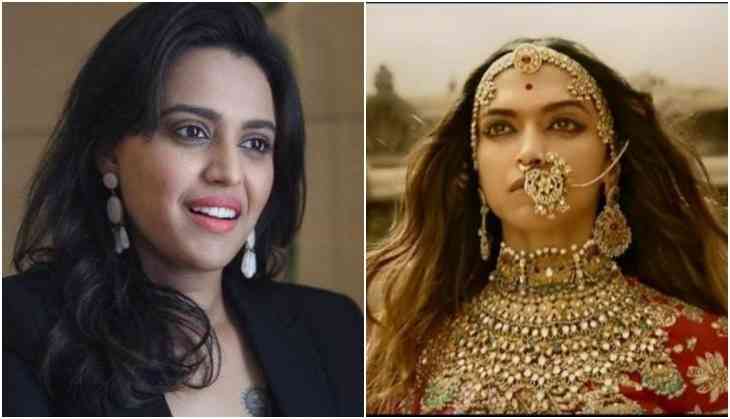 Padmaavat: After Shahid and Ranveer, now Deepika Padukone gave fitting reply to Swara Bhaskar's open letter
Bollywood actress Swara Bhaskar wrote an open letter for the filmmaker Sanjay Leela Bhansali for the film Padmaavat. The way Bhansali shot the scenes of Jauhar and Sati, Swara Bhaskar raised questions about the intentions of the film. Swara Bhaskar even said that she is feeling like a Vagina after watching this film.
Now we have earlier told you that Ranveer Singh and Shahid Kapoor who have played the leading roles in the film already have given replies to the actress, now leading lady Deepika Padukone herself has come out and gave a fitting reply to Swara Bhaskar.
Deepika Padukone in an interview, while asking about the Swara Bhaskar's open letter said maybe Swara Bhaskar didn't read the disclaimer before the film.
She said, "They have not seen the film properly maybe that missed that fact that has shown for 12th and 13th century. It was that time's tradition, Swara clearly missed that disclaimer before the film starts."
Also Read - Padmaavat: After Shahid Kapoor, now 'Khilji' Ranveer Singh gave fitting reply to Swara Bhaskar's open letter to Bhansali
Deepika further added, "Maybe you went to buy popcorn and you would have missed the starting. It is also needed that what is being shown in the film that where the film is set. The third thing it does not only end on 'Jauhar' (when all the women are going to do it), it is also about the proud and honour of the women during that wartime."
Also Read - Padmaavat: Do you know? This superstar rejected both the roles of Alauddin khilji and Rawal Ratan Singh in Bhansali's film
This is to notice earlier Shahid had also said that it is odd to see Swara's open letter when the whole film industry is supporting the film.