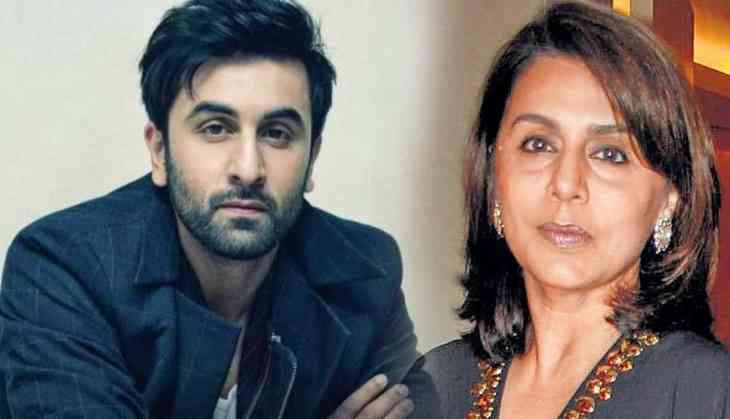 Bollywood Actor Ranbir Kapoor currently has taken the box office by storm. Ranbir Kapoor who confessed that he is mumma's boy. According to Ranbir's mother he never approached a girl first.
Ranbir Kapoor had relationship with different actress like Katrina Kaif Deepika Padukone and Mahira Khan which made big headlines as same as his bond with his mother Neetu Kapoor.
Ranbir Kapoor is now ready to compete with Ranveer Singh and Varun Dhawan for upcoming future.
Sanjay Dutt's biopic film Sanju also features Paresh Rawal, Vicky Kaushal, Manisha Koirala, Dia Mirza, Sonam Kapoor, Anushka Sharma and Jim Sarbh.
As per reported in Times Now Neetu Kapoor cited that "He is too soft. He can't hurt anybody. It's the same with his relationships, he does not know how to say no, and gets into the deep end! I see it happening and can do nothing about it".
Further she cited that "The first time he felt involved, I knew the girl was not right for him. But when I told him, he rebelled. So I learnt to tackle it another way. I told him don't get serious so soon, the more you see the more you know and learn, so meet many girls, and go out with them , but don't commit yet. But I have learnt to not be an irritant. I say it once and move away. It works."
"I think he is charming, but he is very shy. I don't see him approaching a girl. It's they who make the first move, and he is too soft to say no, and gets involved. But he does confide in me, sometimes asks my advice. And I speak to him like a friend, and even try to get him out of an involvement if that is the best option."
There were also certain rumour's that Deepika Padukone failed to impress Ranbir's mom while inthe case of Katrina Kaif she strictly said no for her.
Also Read: Pehli Baar song out from Janhvi Kapoor and Ishaan Khatter's Dhadak and it is all about first love