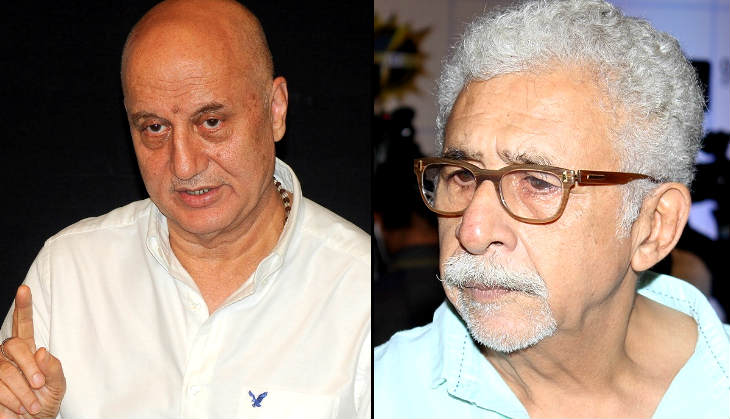 Bollywood veterans, Naseeruddin Shah and Anupam Kher have found their names in a latest controversy surrounding the latter's campaign for Kashmiri Pandits.
As per the initial reports emerged, Shah had allegedly commented against Kher's participation on the issue. However, he later gave a statement that he never made any comment against Kher and his campaign.
Media reports had quoted Shah as saying, "A person who has never lived in Kashmir has started a fight for Kashmiri Pandits. Suddenly, he is a displaced person".
Kher, on the other hand, said he found it hard to believe that a personality of Shah's stature would make such a comment. He said:
"I have great regard for Naseerudin Shah. I don't think the comment was made by him but seems it was attributed to him by someone. My roots are in Kashmir. I don't want to prove my credential of being a Kashmiri Brahmin. It's a very insensitive statement, I don't think such a statement befits from a person like him."
Also read: What does Amitabh Bachchan has to say about the Udta Punjab - Censor Board row?
And in a development, Shah has said that he had never made such a statement: He told ANI that it was an instance of misreporting.
I have not said any such thing, this is all misreporting :Naseeruddin Shah on his statement on Anupam Kher pic.twitter.com/8mNABd6cHc

— ANI (@ANI_news) May 28, 2016
Kher, who has been helming a campaign to support the return of the Kashmiri Pandit community to the Valley, had taken to Twitter to express his dissappointment over Shah's alleged comments.
Also read: Udta Punjab: 40 cuts by the censor board for Shahid Kapoor - Kareena Kapoor film
Shah Saab ki Jai Ho. By that logic NRI's should not think about India at all.:) Naseeruddin Shah on Anupam Kher https://t.co/UtQrtZ66we

— Anupam Kher (@AnupamPkher) May 27, 2016
Many Twitter users backed Kher. Take a look:
Also read: Amitabh Bachchan breaks his silence over hosting BJP's grand 2-year anniversary event
@NaseerudinShah Who are U to question the roots of @AnupamPkher which is #Kashmir. I had thought U were a well read & educated person.

— Ashoke Pandit (@ashokepandit) May 28, 2016
@AnupamPkher y anupam fighting in Kashmir ,he never stayed there !! Oh Kejriwal was born, brought up n worked in delhi!! Oh got it 😃

— Abhisek Mohapatra (@rickymohapatra9) May 28, 2016
Anupam Kher shouldn't fight for KP rights as he never lived there, OTOH Nasiruddin Shah signed Yakub's mercy petition as he was his relative

— Mohit (@sailorsmoon) May 28, 2016
You don't have to be Kashmiri to fight for #KashmiriPandits plight.Every Indian should condemn the brutality and support their resettlement.

— Madhur Bhandarkar (@imbhandarkar) May 28, 2016