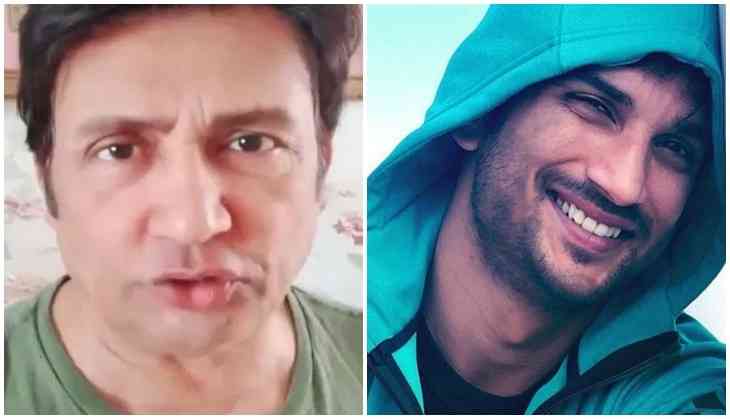 Know why Shekhar Suman has taken 'backseat'
It's been a month since Dil Bechara actor Sushant Singh Rajput said alvida to his family, friends and fans by ending his life on 14th June at his Bandra house, Mumbai. His family and his fans are of the belief that he didn't die rather he was killed. It's hard for them to accept the fact that a strong individual like him will end up taking his life leaving behind not a single note that can explain his step.
Ever since then his family and fans are fighting to seek justice for the actor in his death case. Among others, Bollywood's veteran actor Shekhar Suman has also come forward and launched a justice forum for the late actor. As soon as he took the initiative to fight for the actor, Sushant's fans applauded him and showed their support on social media. However, now all of a sudden Shekhar has decided to take a backseat.
Also Read: What! Breathe actor Amit Sadh was banned by TV industry; reveals shocking details
Taking to his Twitter he announced the same and revealed the reason behind his decision. He said that since Sushant's family is completely silent on this so it's making him feels uncomfortable. He guesses that it's their choice and one should respect it.
Dear all,Thank you for making my voice strong all this while.Allow me to plz take a backseat now.since the family is completely silent on this,it's making me very uncomfortable to go on.i guess its their prerogative and we all shld respect that.

— Shekhar Suman (@shekharsuman7) July 15, 2020
He further went on to clarify that he has not been threatened by anyone and it's his sole decision. He is not completely backing off rather would be there like a 'silent force'.
Also Read: Ankita Lokhande's special message for Sushant Singh Rajput on his first month death anniversary
Let me make this very clear..ive not been threatened and i care a https://t.co/FVLwNCVN2J not backing out..i said im taking a back seat...there is a huge https://t.co/Gi5u3bjjoo there but let the family come forward and give some statement.

— Shekhar Suman (@shekharsuman7) July 15, 2020
But i will be there behind all of you as a silent https://t.co/lHuLuLJq9s have to just summon me and i will be there.i will be the happiest wen Sushant gets justice.Thank you each one of you.Thank you @Swamy39

— Shekhar Suman (@shekharsuman7) July 15, 2020
Whether our efforts bear fruit im not sure but we were able to show the world the strength of our collectivity ,unity and togetherness.That we were able to on the sheer dint of our persistence and conviction,shake the system and forced them to pay heed to us.

— Shekhar Suman (@shekharsuman7) July 15, 2020
Meanwhile, Mumbai Police will once again interrogate Sushant's sister Meetu Singh and his cook. So far they have questioned 27 people including his girlfriend Rhea Chakraborty, filmmaker Sanjay Leela Bhansali and Shekhar Kapur.
Also Read: After Adhyayan Suman, Shakti Kapoor's son Siddhanth talks about his Bollywood career amid nepotism debate