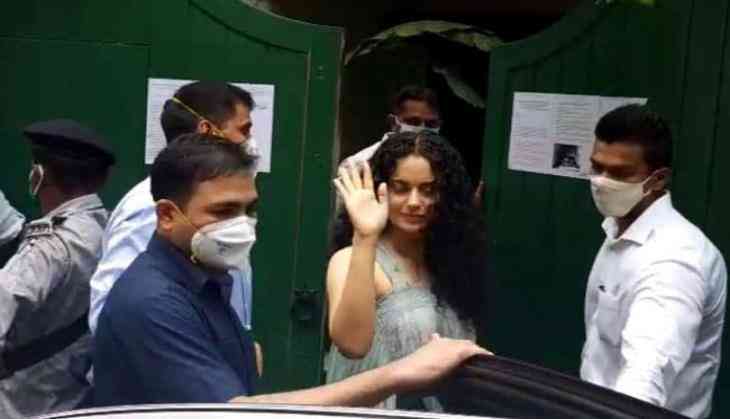 Bollywood star Kangana Ranaut, who is engaged in an acrimonious tiff with the Shiv Sena, launched an attack on Congress leader Sonia Gandhi and Sanjay Raut over the 'free Kashmir' placard controversy during a protest against the violence at Delhi's Jawaharlal Nehru University (JNU) in January.
After an action-packed week in Mumbai, the actress reached her hometown Manali in Himachal Pradesh. As soon as reaching, Kangana took to twitter and stated that people greeted her with joy and her security was lowered significantly.
Alluding to the 'free Kashmir' placard controvercy during one of the demonstrations in Mumbai against the violence in JNU, Kangana Ranaut attacked Sonia Gandhi and Shiv Sena, saying "today the cost of the freedom is only your voice" and "there will be a day when it would only be blood".
"Dilli ke dil ko cheer me wahan is saal khoon baha hai, Sonia Sena ne Mumbai mein Azad Kashmir ke naare lagwaaye, aaj azaadi ki keemat sorf aawaaz hai, mujhe apni aawaaz do, nahin toh who din door nahi jab aazaadi ki keemat sirf aur sirf khoon hogi," Kangana said.
Translation: "...Sonia's army shouted slogans of 'Azad Kashmir' in Mumbai, today the price of freedom is only voice, give me your voice, otherwise, the day is not far when the price of freedom will only and only be blood."
The Shiv Sena and Kangana have been entwined in an acrimonious exchange after the actress not long ago drew a parallel between Mumbai and Pakistan-occupied Kashmir (PoK) and also said she feared Mumbai Policemore than "movie mafia".
Earlier, Bollywood actor Kangana Ranaut gave a justification for her PoK remark on Mumbai as she left the city sorrounded by her Y-category security.
"With a heavy heart leaving Mumbai, the way I was terrorised all these days constant attacks and abuses hurled at me attempts to break my house after my workplace, alert security with lethal weapons around me, must say my analogy about POK was bang on", Kangana tweeted.
Soon after Kangana Ranaut pushed off, Shiv Sena's Pratap Sarnaik launched an attack on the actress, saying she has blackened the faces of all those who supported her.
"Kangana has blackened the face of all those who supported her and has now left...Now keep shouting .. Jai Maharashtra!" Pratap Sarnaik said.
Congress leader Sachin Sawant threw doubts over Kangana Ranaut claims to expose the connection between Bollywood and the drug mafia on her return to Mumbai.
Taking to twitter, Sachin Sawant questioned why didn't Kangana give information about the Bollywood and drug mafia connection to the NCB, as claimed. "Was it a hoax," he said.
"Kangana has returned to HP. Really surprised! What abt her knowledge of drug mafia and bollywood connection? Wasn't it her duty to give information she has to NCB? Isn't it a crime to withhold information about a crime under IPC 202 & 176 also in NDPS Act? Or was it a hoax?
Also Read: Unplanned lockdown product of ego of a man, causing coronavirus to spread across country: Rahul Gandhi