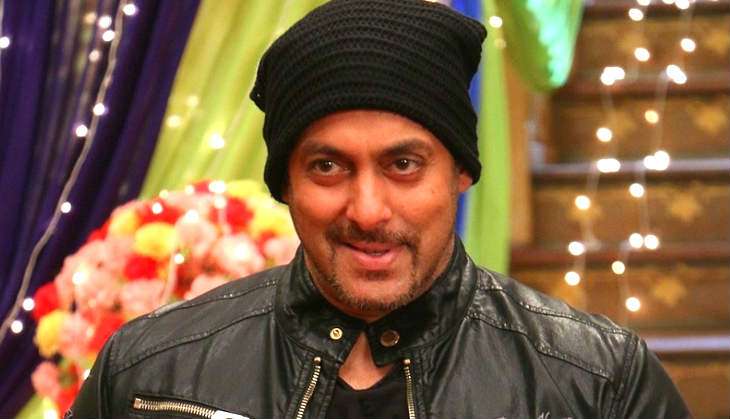 Salman Khan is gearing up for the release of his sport drama, Sultan. The film will see Salman essaying the character of a Haryanvi wrestler.
In a recent group interview, Salman opened up about what he really thought of opening day Box Office collections. He also spoke about a number of things, including the parallels between Sultan and Aamir Khan's Dangal as well as why it did not make sense for his film to clash with Shah Rukh Khan's Raees.
Excerpts from the interview:
On Sultan
Sultan is expected to record the biggest Box Office opening of all time. Is there a lot of pressure from trade?
I think the initial numbers are ridiculous and stupid. It is so easy to create opening day records. All you need to do is to increase the ticket rates. Rs 40 crore, Rs 45 crore, Rs 20 crore opening does not matter. It is the end result that matters. People should come in to watch the movie and not the stars. In the 90s, people used to come to watch my movies and not me, but now I have a plus point that apart from the movies, they also want to watch me.
Ticket prices these days have gone up so much. This may even destroy the Indian film industry. This is one of the reasons why the regional film industry is doing so well at the Box Office. They do good business despite having an average ticket price of Rs 60-70. We charge our audiences Rs 400, Rs 500 or even Rs 900 at times.
The theatrical trailer of Sultan seems to give away the entire story of the film. Was that intentional?
The trailer was cut intentionally in this manner. I did not want it to look like a wrestling film because it is not about what happens inside the ring, it is all about what happens outside it. In my opinion, you only get the result in the ring but the real struggle is what you go through outside it. Sultan is a story of a man who gets back everything that he lost. He is down and out and nobody supports him, including his own family. He fights his own battle and finally earns respect.
Also read: Sultan: Film publicity helps the media, not actors, says Salman Khan
What are the similarities between Sultan and Rocky?
The only similarity between Rocky and Sultan is that both stories revolve around the lives of an underdog. Our training sequences are also very different. Sultan is based on a very different sport. It is wrestling meets MMA and it is a completely different style of fighting. It is a very difficult film to do but I won't call this my most difficult film. The most difficult film for me was Maine Pyaar Kiya. In that film, I used to stammer in front of Alok Nath. I could not even say 'Kyun Babuji.'
Also read: Why did Salman Khan agree to do YRF's Sultan. He explains.
Salman Khan in a still from Sultan (Movie Still)
What is your take on Raees being postponed to make way for Sultan?
Two big films will never be able to release together because we don't have enough screens. In our case, Shah Rukh would have wanted to release Raees on as many screens as possible and vice-versa. But it depends on the distributors and exhibitors. So, the screen count gets divided into different proportions. Till the time we have 20,000 plus screens, we can't let two big films clash. In my opinion, the industry is not growing. It is only the ticket prices at multiplexes that are growing.
Also read: Dangal goes beyond wrestling: Aamir Khan on comparisons with Salman Khan's Sultan
On his plans
Will we ever see you work in a horror film?
I get scared of horror movies. For me, there should be no sex, no horror.
Does success inspire you to work hard?
If your films do well, you need to work harder to meet expectations. If your films don't do well, you have to work harder to ensure that they do well. So both situations pe dimag kharab hojata hai.
I do films based on excitement and I don't like to over-analyse the script. If the idea is appealing, I will do it. I won't go to analyse what sort of audience it will appeal to and all that.
Salman Khan while shooting for Sultan (Movie Still)
On Aamir Khan's Dangal
Aamir Khan recently said that he is afraid of Sultan because it releases before Dangal. What is your take?
If Aamir Khan is scared of Sultan then why do Dangal? (Laughs) Why would Aamir be scared? My film is different from his film. And we both know what kind of films we are doing.
Do we ever say 'Salman should not do a love story because Shah Rukh Khan is doing one?' Just because it is wrestling does not mean that we are doing the same film.
Aamir's film is an outstanding script. Trust me when I say this. Given a choice I would have done both Sultan and Dangal. It would have been easier to do both films together as they require a similar body type.
When can we see you work with Aamir Khan?
I have been dying to work with Aamir Khan for a long time. But I have no clue about the Andaz Apna Apna sequel.
Also read: Sultan is a love story and a love story never fails: Salman Khan
On Arijit Singh
Arijit Singh has been speaking about his version of Jag Ghoomeya being omitted from Sultan's music album. What is your take on that?
Who is Arijit Singh? Achaaa, that guy. In every movie there are a lot of singers who come on board and sing the song. It is the producer and director who decide as to who will be the best voice for the film. One of the many versions of Jag Ghoomeya was mine as well and they rejected the same. This is life.
There should be a day when one singer should say 'I don't want to sing for this actor'. That is how things should be. I don't think the smart ones write about these things on Facebook. When they do that you understand their intention.
Directed by Ali Abbas Zafar, Sultan also stars Anushka Sharma, Randeep Hooda and Amit Sadh in pivotal roles. The movie releases this Eid.
Read the first part of this interview here: On Sultan, the Censor Board and sports-based films... Is this Salman Khan's most honest interview?