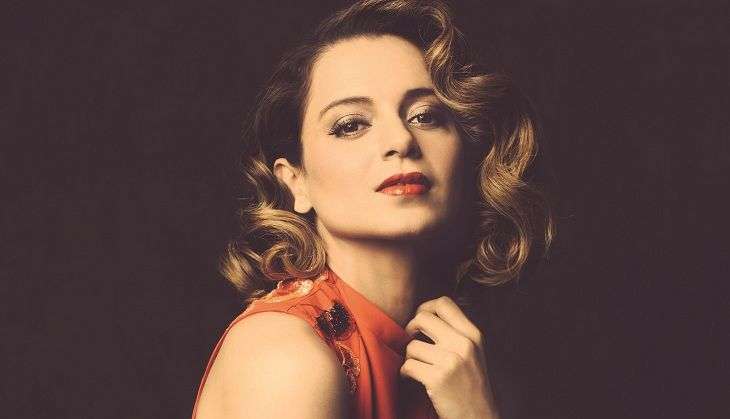 Kangana Ranaut in her trademark style speaks of lessons she learnt from the eventful year that went by.
2016 was eventful for Kangana professionally and personally. While her big fall-out with Hrithik Roshan made to the headlines, she managed to win the coveted national award for her performance in Tanu Weds Manu 2. But more than any of these experiences, what jolted her the most was the car crash she was involved in, in USA during the filming of Hansal Mehta's Simran.
Remembering that incident with a shudder, she says, "Last year was eventful, yes. You end up learning something or the other from all your experiences. What I learnt the most was the impermanence of it all. I was involved in a really bad car crash while shooting for Simran. I survived that and that was a big wake up call for me. I realised that instead of fighting or cribbing about things, one needs to be grateful for whatever one has. Thankfully, I survived without a scratch except for a bit of bleeding on my forehead, but it was like a miracle. Something nice came out of something like that. I realised one should value one's life, one's health more than anything else. There is so much to be thankful about.
Kangana says the journey of making Rangoon was as painful but fruitful in the end...
"You know it very well how tough for me. how I would struggle to speak to you guys from that no network area..... This movie was more of an emotional journey for me, even though there were physical obstacles. Vishal sir (Vishal Bharadwaj, the director of Rangoon) relies more on environment and visual appeal and he thinks the drama of the environment adds to the characters. The characters are not driving the backdrop, it is the other way around. (Laughing) From drowning in the river, to getting stranded in jungles to digging graves, he made us do everyhing. But I assure you that it's a wonderful experience, this film is. It is more of an uplifting love story."
She seems to have lost out on a few friends over the years, is it because she continues speaking her mind, as here are many who might find her intimidating?
"I think my life is simply about me. People who don't like strong women are exactly the kind of people I don't like either. If I have to be around such people, I maintain my distance. I can judge one's character. I like strong, confident people, people who are smart enough to understand other people's smartness."
But won't she lose out on opportunities to people who play to the gallery?
"What do you do with those spineless people who play to the gallery? I avoid them and that's why my environment is not that crowded. I might not have those many friends, I am not part of any whatsapp group, I am not the most convenient actress to have around, but even then I don't want to clutter my life with spineless people. I am happy. I don't want to drag those people around, because they are not good for anybody, leave alone themselves. I mean, there are people who feel the need to announce how lonely they are and how they have cried themselves to sleep at nights. I find it amazing. Every night I might cry or might not cry but that's my private world. I am not going to tell the world, Oh my God, look at me I am so lonely. I would rather read a book, have my dinner and go to sleep. I prefer leading a balanced life."
"And about losing opportunities, I am glad I am not doing too many things. It is like when you are in school, you have to study all the subjects. When I got into the industry, I did all the films that came my way. But when you are growing up, you go to college you choose one subject to major and then when you do PHD, you go into the depths of that one subject. It's the same thing with me. If I don't come to a point, where I find my game, what things I can master, then what is the point? Today Aamir is successful because he has figured out his game. I am glad that I am at a point where I have limited choice. I have passed through the confused state for ten years. Andhere me teer maar rahi thi main. But not any more.
Hasn't she ever felt under pressure to please certain people?
"I do want people to perceive me as someone pleasant. But every time I try that, it just doesn't work. They can see through me and still feel intimidated. I do think today is the day I will be this convenient person to have around, but it never works. Even when I have relatives visiting, I try to be this pleasant person but they know the real me too well and they are still intimidated. (laughing) So I guess there is no point in me pretending."
Kangana says she feels she is a misfit in her generation. "I believe in certain values which people from my generation just don't seem to understand. I always find fascination in success stories that started from scratch. But the people from my generation yawn when their parents tell them what they had to go through to reach where they have. I identify with their parents, we have the same set of values and principles. I see most of the people of my generation have no personal success. They are not as successful as I am and I feel very lonely amongst people of my generation. That's why perhaps I tend to fall for older men, but that doesn't compensate for anything. Look at the people from the older generation. People like Bimal Roy, K Asif...I identify with those people. K Asif would go around in a broken chappal. I could date anyone from that generation. Guru Dutt, Dilip Kumar...such self made, creative men."