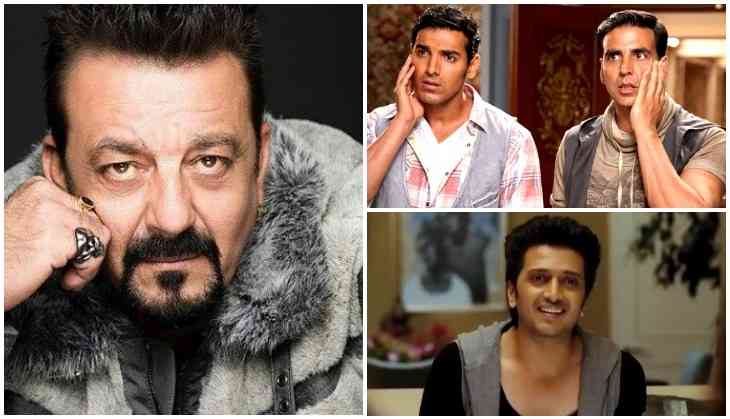 Housefull 4 cast confirmed: Akshay Kumar, Riteish Deshmukh, John Abraham, Sanjay Dutt to star in Sajid Khan's film
On 26 October, the production house of hit franchise film Housefull confirmed that they are going to be back again with fourth installment of Housefull. Sajid Nadiadwala, producer of the Housefull franchise, also confirmed that Sajid Khan, who directed previous two parts of the series, has come back to direct the fourth installment.
Now the casting of the film also has been confirmed and it is being said that John Abraham, who was a part of the series in the second sequel, will make a come back in fourth part. Sanjay Dutt will play the pivotal role in the film. If the reports are to be believed, while it has been confirmed that Dutt and Abraham are being roped in for the film and that they have said yes on the friendship basis, both the actors are yet to sign the papers.
Also Read - Sushant's mood swings becomes trouble for Sara debu film Kedarnath
The #Housefull gang is back! #SajidNadiadwala's #Housefull4 arrives in #Diwali2019! @SimplySajidK @WardaNadiadwala#Housefull4onDiwali2019 pic.twitter.com/HGWlcp6wI0

— Nadiadwala Grandson (@NGEMovies) October 27, 2017
Boman Irani and Chunkey Pandey will also reprise their roles in the film. The bad news is that Jacqueline Fernandez who was the part of Housefull series since first part will not be a part of the fourth one and the reason is obvious as her ex-boyfriend Sajid Khan is directing the film.
Also Read - Ranbir, Amitabh, Alia film Brahmastra to release in 3D
On the other hand, Abhishek Bachchan who joined the cast in third part is also not going to be a part of it. Discussing Jacqueline Fernandez casting Sajid Khan already has told Nadiadwala that he is not comfortable with Jacqueline so he doesn't want her in the film.