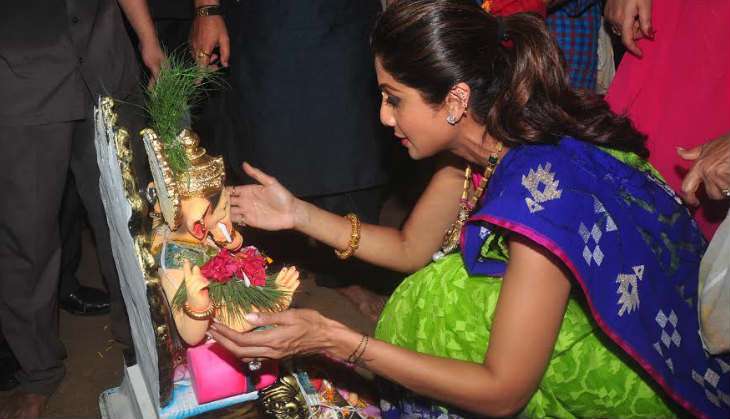 It's that time of the year again when Ganpati graces our homes, bringing with him, peace, prosperity and all things auspicious. As the air resounds with the jubilant cries of Ganpati Bappa Morya, Bollywood stars tell us how they celebrate the festival.
Shilpa Shetty (actor)
This is the seventh year when I shall bring Ganpati home. I keep our Ganesh idol at home for five days, and from last year I have made a promise to myself that I will contribute to the environment by bringing home an eco-friendly Ganpati. I request other devotees too to use eco-friendly Ganpati idols and materials because the mercury level is rising in the lakes and fish are dying or we are eating the polluted fish.
Besides hosting my own Ganpati, I also enjoy visiting other people's houses and Ganesh pandals too. I dance my heart out during Ganesh visarjan; it's fun and a way of showing God how happy we were to have him amidst us.
Katrina Kaif (actor)
I visit my friends' houses during Ganpati. It will be wonderful to bring a Ganesh idol at home in the near future.
Sunidhi Chauhan (singer)
My mom brings home an eco-friendly Ganpati idol for 11 days every year. I do my best to attend all 11 days of darshan but it finally depends on my schedule. My mom does the pooja herself, and doesn't call a poojari. We invite a few close friends for darshan. Mom either makes the prasad, which includes modaks, at home or she gets them from a shop.
If I am in town, I go for the immersion, but if I am not, my mom and dad do the needful. I normally do not ask anything from Ganpati, and on the rare occasion I do, it's very personal and I cannot disclose what I ask for. By and large, I just pray.
Nitin Mukesh (singer)
We have been bringing Ganpati home since the last 22 years. We keep Him home for all 10 days. The idol is quite large but it's made from clay. The decor is like that of a temple hence the house feels like a temple with beautiful vibes during those 10 days.
The entire family's attention is diverted to the God. Every day is different - on the first day we have the Sthapna Poojan, and on the second day we have Satyanarayan Pooja. Sunderkand Path from the Ramayan is on the third day.
We also have Shiv Pujan, when 1000 names of Shiva are chanted while bestowing 1000 bilva patra, and Gauri Pujan when Haldi Kumkum is hosted and at least 50 women tie rakhis to the God. I specially get rakhis made from Kolkata for this occasion. We also celebrate Diwali and Holi with the God by bursting crackers and sprinkling gulal.
The bhog that is served to guests is all homemade; and everyday there is a new mithai. The sherbets too are made at home. Two days before visarjan, we have a Chhapan Bhog and our little drawing room is filled with all kinds of food. We go to Chowpatty beach for the visarjan. Since the idol is fairly large, we take him in a truck and I sit inside, holding the idol. Neil travels in a car following the truck. It takes us three hours to reach Chowpatty. This festival is all about faith and shraddha.
Narmada Ahuja (actress, Govinda's daughter)
It's one of my favourite festivals. We bring Ganpatiji home for one-and- a-half days and we celebrate with a lot of vigour. We decorate the house with lights, get lots of mithai and order heaps of food as we have friends and relatives coming over for darshan.
We perform aarti twice a day. Papa (actor Govinda) is very actively involved in the Ganpati festival -- Papa gets Ganpatiji home and he is one who does the entire pooja. He also goes for the visarjan. We celebrate this festival with lots of pomp.
Krishna Shroff (Tiger Shroff's sister)
Every year, our family (dad Jackie, mom Ayesha, brother Tiger) brings home an organic Ganpati and we all sit together for the Ganesh pooja. We keep Ganpati for a day-and- a-half and we make a variety of vegetarian food. My mom serves Him puris and mithai on banana leaves laid out in silver thalis.
We do the visarjan on our balcony at home. We put Ganeshji in a copper vessel filled with water, and when he dissolves, we use the water to nurture our plants at home. It's our small contribution to save our ocean.
Arjan Bajwa (actor)
Mumbai is buzzing, lit up and in complete celebration mode during the Ganesh festival. I visit friends who have brought Ganpati home and do darshan. I pray for everyone's prosperity, peace and good health.
Pritam Chakraborty (music director)
I go to my friends' places for Ganpati darshan during the festival and my building too has a Ganesh pooja, which I attend. We celebrate in the building and have loads of fun. I encourage environment-friendly Ganpati idols.
I don't ask from Ganpati because I believe that he guides me all the time. I go to Siddhivinayak temple very often and I always ask him to guide me and give me strength to make the correct decisions in life. The Ganpati festival is a time to enjoy.
Mrunal Jain (TV actor)
Ganesh Chaturthi is one of my favourite festivals. I visit Ganpati pandals with my mom and my wife and seek Lord Vinayak's blessings. Ganpati is the darling of the masses ... and mine too. I never fail to do darshan of Ganpati at my friend Kunal Thakur's house. I pray for good health and happiness for my near and dear ones and ask for the strength to face all the challenges of life with a smile.
I feel the idols should be made with natural colours and should be biodegradable when immersed in water. Ganpati is the God of intelligence and wisdom and the Lord himself will appreciate us if we do not harm our environment.
Jubin Nautiyal (singer)
I got exposed to the festival four years back when I shifted to Mumbai. It's an important, vibrant and colourful festival. I usually go to the homes of friends who have brought Ganpati home aur main apna maatha tekta hoon.
There is a beautiful Ganesh temple at Oshiwara where they put up a pandal so I go and do sewa. I thank the Lord for making my dreams come true; I am a big Shiv bhakt too. This year, I am going to ask for another peaceful year, and for endurance to face the challenges in life and my career.
Tanuj Virwani (actor, son of actress Rati Agnihotri)
I love these 11 days of festivity. I visit the Lalbaugcha Raja and also the famous Ganpati pandal in Andheri West. From the time I was a child, my mother (Rati Agnihotri) would take me to Ganpati pandals especially the Lalbaugcha Raja. I love the prasad.
My friends Niranjan, Kunal and Amishi bring Ganpati home every year; and there is happiness in the air. I no longer ask from God; at the end of the day we have to make the best of whatever opportunities we get but yes, good health is paramount.
I encourage environment-friendly Ganpati idols. When I lived right off Juhu beach earlier, I would be saddened by the mess left after visarjan day. People have become a lot more environmentally aware today; and that's a good sign.
-- Sourced from Heena Agarwal-Anita Raheja-Anita Britto-Ami, BNS