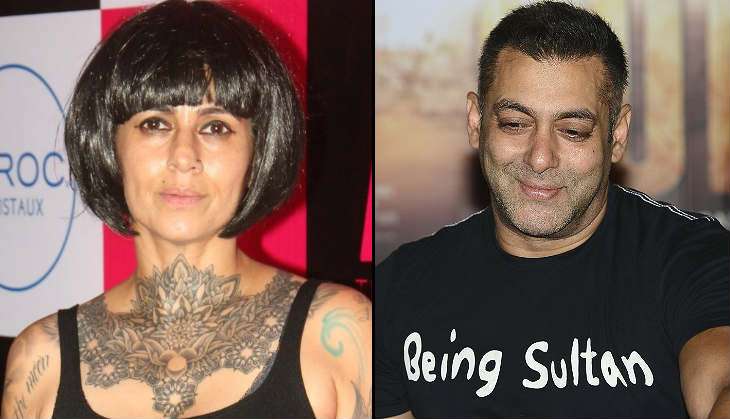 Celebrity hairstylist and former Bigg Boss contestant, Sapna Bhavnani has released her book -- Chapter One where she has talked about ups and downs of her life and Salman Khan finds a mention in it too.
However, what is making waves currently is her interview to a leading daily about the same book. In the interview, Bhavnani has gone on record to slam the superstar for his behaviour, abuses him for his antics while hosting Bigg Boss and calls him a 'male chauvinistic f***ing pig'. Here are the excerpts from the interview:
On Salman misusing people:
"This man really misuses people and I don't' have to give him importance... especially in my book."
Also read: There is a reason why Salman Khan, Shah Rukh Khan rule Bollywood, says Yami Gautam
On how embarrassed she is because of Salman:
"It's insulting to have an Indian man talk like that on an international platform. I am embarrassed to call myself an Indian when statements like these go out worldwide. I was very vocal about it on Twitter, and everywhere. I got a lot of flak for it, but flak or stalkers and trollers should not be the reason why you should stop voicing the truth."
On how she doesn't care talking against Salman:
"Actually, a lot of people told me, I was warned that you shouldn't talk about him like that because you could get killed, and I was like, 'what!' I had heard rumours, but I have been channelling this 'no fear' thing for the past four years and I am not going to let a monkey scare me. I have been through a gang rape, I know what it feels like, I am a surviving member... there is nothing worse you can do to me really."
On being gangraped at 24:
"I still don't know, if I have the guts to talk about my rape, but I can start a new chapter one of my life once it (rape) is out of the system, so there will be a chapter on that too."
On the Bigg Boss experience:
You have a male chauvinistic f***ing pig as a host of this f***ing show, that insults people, so people watch the show, and people worship him on the show because people want a job in one of his stupid f***-all movies where he dances like a monkey - that's Big Boss in a nutshell."
Also read: Is Salman Khan's Tubelight inspired by Hollywood film Little Boy?
On Chapter One, her book:
"I wrote chapter one and it was so good I could not do chapter two.. isn't that life? You are always trying to complete one thing in life and then you move on to the next. So this book is going to be about all the chapter ones in life, everything is a new beginning. People ask me if it is going to be non-fiction or fiction, but, 'if you can't tell, I am not telling'."
-- quotes from Hindustan Times