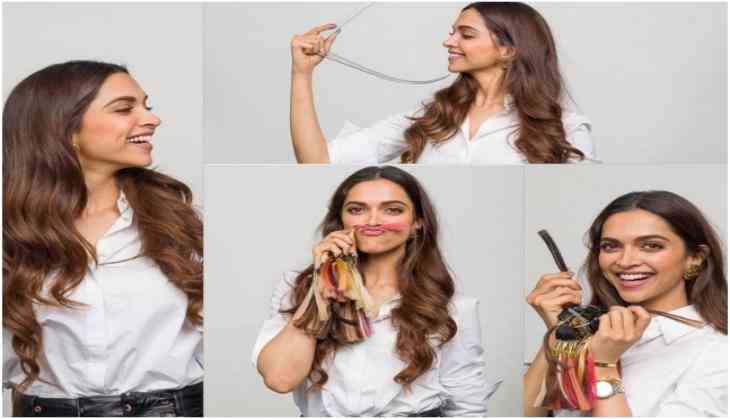 Bollywood diva Deepika Padukone is known for her grace and the way she presents herself in every situation is just commendable. Recently she hit headlines by featuring in Vogue magazine along with Avengers: Endgame star Scarlett Johnsson. Again Deepika is making buzz this time for this very special reason.
Deepika recently unveiled her wax statue at Madame Tussauds in London, on this special occasion she was seen accompanied by her husband Ranveer Singh and her parents Prakash Padukone, Ujjala Padukone and also with her inlaws Jagjit and Anju Bhavnani. The wax-statue features Deepika's Cannes look of 2018.
Deepika was seen all happy when she was unveiling her statue and was seen posing with it. In the picture we can see Ranveer is standing awestruck it seems he has once again fallen in love and this time with his wife's wax-statue. Even Deepika expressed her emotions and said that as a kid she used to ask herself a question 'What is my purpose behind what I am doing?'. Now she is all grown up and thinks that she is fortunate and privileged enough that through her hard work she is standing at this position and for this, she credits her filmy career.
She added that when she got this honour she again asked that question 'what she was doing and what was her contribution' then a voice came from her mind which said "that she would like to be the 'Statue of Purpose' so that when people come to see her statue, they will be a reminder of someone who has some sort of impact on the society".
This moment was not only nostalgic for Deepika but also for her mother Ujjala, she shared her emotions and said that when her mother last visited London 35 years ago never even dreamt that she'll have a daughter who will make it to Madame Tussauds one day.
Deepika who is known for her roles in Padmavat, Piku among others will be next seen in Meghna Gulzar's Chapaak also starring Vikrant Massey in a pivotal role.
Also Read-
Chapaak actress Deepika Padukone featured along with Avengers: Endgame star Scarlett Johansson