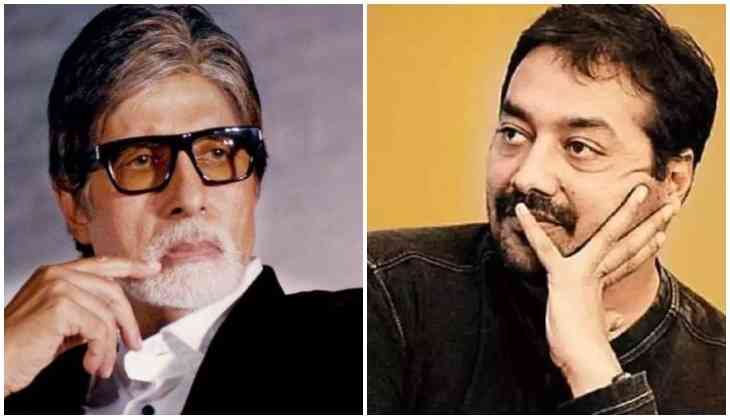 Anurag Kashyap- Amitabh Bachchan
Bollywood's famous filmmaker Anurag Kashyap who return to Twitter a few months ago and is very active when it comes to giving an opinion on the current situation. Earlier he slammed Akshay Kumar by calling him spineless and now he has targeted Bollywood's shehensha Amitabh Bachchan for not speaking up about the ongoing issue that has taken a form of protests.
Recently, Gulabo Sitabo actor took to his Twitter handle and wrote, "T 3592 - नया साल आने में बस कुछ ही दिन बाक़ी हैं; ज़्यादा परेशान होने की बात नहीं है, बस .... 19-20 ( उन्नीस बीस ) का ही फ़र्क़ है 🤣🤣" (T 3592 - The New Year is just a few days away; There is nothing to be worried about, it is just a matter of 19-20).
T 3592 - नया साल आने में बस कुछ ही दिन बाक़ी हैं ; ज़्यादा परेशान होने की बात नहीं है , बस .... 19-20 ( उन्नीस बीस ) का ही फ़र्क़ है 🤣🤣

— Amitabh Bachchan (@SrBachchan) December 27, 2019
Re-tweeting Big B's tweet Anurag wrote, "इस बार फ़र्क़ उन्नीस बीस का नहीं है सर, इस बार फ़र्क़ बहुत बड़ा है । फ़िलहाल आप कृपया अपनी सेहत का ख़याल रखें ।अपने हिस्से का आपने ७० के दशक में ही कर दिया था, तबसे अपने अंदर का बच्चन हम अपने अंदर ले के घूम रहें हैं । इस बार सामने गब्बर हो या LION या फिर शाकाल ....हम भी देखेंगे. (This time the difference is not nineteen twenty Sir, this time the difference is very big. For the time being, please take care of your health. You had done your part in the 70s, since then we are wandering around taking your inner child. This time, be it Gabbar or LION or Shakal… we will also see)
Also Read: Bigg Boss 13 Weekend Ka Vaar: Rohit Shetty inhouse; Sidharth Shukla reduces to tears in front of Sooryavanshi director
इस बार फ़र्क़ उन्नीस बीस का नहीं है सर, इस बार फ़र्क़ बहुत बड़ा है । फ़िलहाल आप कृपया अपनी सेहत का ख़याल रखें ।अपने हिस्से का आपने ७० के दशक में ही कर दिया था , तबसे अपने अंदर का बच्चन हम अपने अंदर ले के घूम रहें हैं । इस बार सामने गब्बर हो या LION या फिर शाकाल ....हम भी देखेंगे https://t.co/Iv0h3hPrJI

— Anurag Kashyap (@anuragkashyap72) December 27, 2019
With this tweet, Anurag means that just like olden days he used to voice his opinion on the current senario and also did anti-establishment films. Same way he wants that in this era also to take out his inner Bachchan ad take a stand rather being a mute spectator.
Also Read: Bigg Boss 13: Sidharth Shukla tops voting trend; Shefali Bagga, Arhaan Khan at bottom