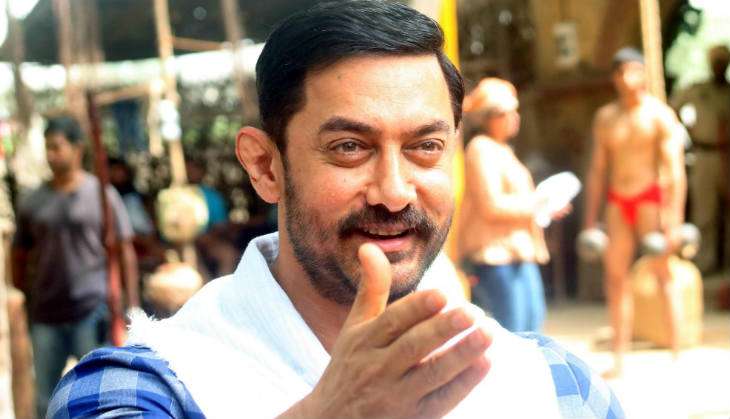 The actor's latest release has managed to earn more than 100 crores in three days
Aamir Khan's latest released Dangal collected 29.75 crore on day one and 34.80 crore on day two, is said to have collected 42.35 crore making it total of 106.90 crore. Although it is said that it has not broken opening records of Salman Khan's Sultan, day 1 and day 2 of Dangal are higher than that of Aamir;s own PK ,which is one of the highest grossing Bollywood film of all time.
Trade expert Komal Nahata says, "I think in first ten days it will touch 250 crore mark and it will be the highest ever. Tax concession to such film always helps and I feel more and more states will make it tax free, because it deserves. It is about women empowerment, it goes with the philosophy of current Prime Minister. So I think it is only going to get better and better. As far comparison with Sultan is concern I think it was never expected to beat Sultan for a simple reason it is not a romantic story. It is a family drama; people do not understand that family dramas never take a flying start like action or romantic films. Those understand film and film business will never say that it did not beat Sultan. When the reports are out, family dramas generally pick up from Sunday onwards, first day only youth and masses rush to the cinemas. So mass oriented, action and romantic films do well on first days. Sultan was mass and romantic film. Finally the impact of demonetisation will reduce with Dangal. I knew that with this film as people will forget about all the woes, it will surpass all after effects and do well."
Film Exhibitor Akshaye Rathi says, " In terms of potential, it has a high chance of crossing PK numbers which are currently the highest ,because you have got phenomenal opening, great word of mouth, there is release for next two weeks. So all this will contribute to the film becoming all time highest grosser. All records are meant to be broken, when PK did well no one would thought that this record will be broken soon by the same actor. It will definitely cross 300 crore mark.Honestely I think it is very silly to compare two films(Sultan,Dangal),records like first day and weekend are extremely irrelevant, what matters is the lifetime box office collection of the film. The films which starts slow and eventually earns good money in longer run should be applauded. PK did not open well like Dhoom 3 but it became highest grossing film of all time. Similarly first day or Prem Ratan Dhan Payo was better than Sultan, despite that Sultan did well. "
He further says, "Post demonetisation took place ,the recovery in terms of people getting enough disposals (money) in hand ,having the freedom of spending conveniently without bothering about issues like shortage of cash and no money in ATM's was going to take some time. The process is already begun. These number shows that stabilization of income has already started, from here is going to get only better. One thinks no one realizes that the content we released post demonetisation was not that great too, they never deserved these kinds of figures. It is not like that with release of Dangal the impact has immediately ended. If you give good content to people they will come and spend money for you. It is simple as that. Comparatively Befikre too did well, though it had limited target audience."
Trade analyst Amod Mehra says, "The opening day's collections were slightly effected due to demonetisation .But word of mouth made up for the deficit on Saturday and especially Sunday. Now the week days are the acid test. These days will be crucial and it's to be seen whether the demonetisation harms it or not. It is already superhit. Now the only interest is to see whether it breaks Sultan's record or not."